Steven Hunter's first job as head chef was at Perry's in Adams Morgan.
"I was there when they started the drag brunch," says Hunter, who worked at Perry's until 1996. "It started off kind of slow but it took off like crazy." So crazy that Perry's essentially inspired a trend of drag brunches at area restaurants.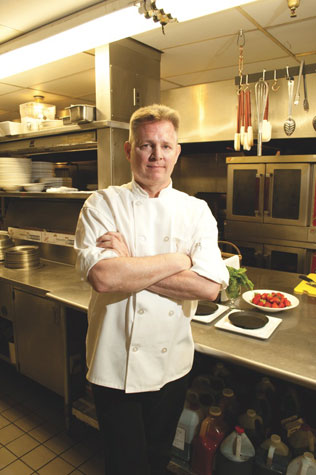 Beacon Bar and Grill: Steven Hunter
(Photo by Todd Franson)
But despite all that front-of-the-house flamboyance, Hunter says restaurant kitchens remain an aggressive arena where relatively few deviate from the straight norm.
"It's a very macho place to work," says Hunter, "and I think that's why there's not a lot of gay chefs. It takes a different type of guy to want to do it." But Hunter, who is gay, hasn't confronted much homophobia in his cooking career – certainly not at Beacon Bar & Grill, where he's been the chef for roughly four years. "[Beacon] is a local company and they treat me well," Hunter says. "And I live like four blocks away, so it's kind of in my neighborhood."
Hunter grew up in Ohio in a big Polish-American family of five siblings. After earning a business degree from the University of Toledo, Hunter started work as a manager with the former Steak and Ale restaurant chain, which eventually transferred him to D.C. He promptly "fell in love with the city" and opted to stay. Soon enough, he gave up higher pay as a manager to become a cook at area restaurants, including Windows restaurant in Rosslyn and at The Hay-Adams hotel. Later, after training at Bethesda's prestigious L'Academie de Cuisine, Hunter became a chef at Aria Pizzeria & Bar in the Ronald Reagan Building.
At Beacon, Hunter has worked to make the menu more contemporary, organic and healthier, all part of an effort to make it more of "a neighborhood destination."
Dining Out for Life is always a special event at Beacon, Hunter says, because of the money raised for Food & Friends and also "because it gives us an opportunity to showcase our new seasonal menu."
The spring and summer season also sees the opening of Beacon's rooftop Sky Bar. Meanwhile, brunch on Saturdays and Sundays draws a diverse local crowd year round.
What they don't feature – at least not yet – is drag performers.
"I haven't had the nerve to [propose] that one," Hunter laughs. – Doug Rule
Beacon Bar & Grill is located at 1615 Rhode Island Ave. NW. Make reservations by calling 202-872-1126 or visiting bbgwdc.com.
Read more about some of our favorite featured restaurants;