As with District residents writ large, D.C.'s LGBT community shouldn't expect any major changes in its collective relationship with the city's elected officials.
With results nearly wrapped, but not yet official, April 3's primary elections saw five of the 12 sitting councilmembers certain to or poised to advance to the November general election, with Councilmembers Jack Evans (D-Ward 2), Muriel Bowser (D-Ward 4) and Marion Barry (D-Ward 8) winning outright majorities, Councilmember Yvette Alexander (D-Ward 7) winning a plurality of votes, and Councilmember Vincent Orange (D-At-Large) holding onto a 543-vote lead over former Councilmember Sekou Biddle into the early morning hours of April 4. With D.C.'s overwhelmingly Democratic majority, the Democratic primary serves as the de facto election for those seats.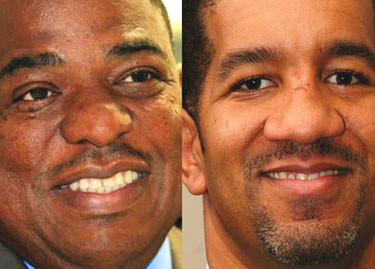 Orange and Biddle
Evans, running unopposed, has a long record of advocacy on behalf of the LGBT community and received 80 percent of Democratic primary votes. He was one of five candidates endorsed by the Gertrude Stein Democratic Club, and received an 8.5 rating, on a scale of -10 to 10, from the Gay and Lesbian Activists Alliance (GLAA) of Washington, which rates but does not endorse candidates.
According to results from the D.C. Board of Elections and Ethics, Bowser, another one of the candidates endorsed by the Stein Club, received 65 percent of the vote, 42 points ahead of her nearest challenger. Bowser earned a rating of 6.5 from the GLAA.
Longtime LGBT ally Del. Eleanor Holmes Norton (D), another Stein endorsee, easily won her party's nomination for re-election to Congress, and Stein endorsee Nate Bennett-Fleming ran unopposed for the District's "shadow" representative.
But in some races, incumbency worked against the LGBT community.
In Ward 7, Alexander earned just under 42 percent of the vote in a six-candidate field, but her two top opponents, Tom Brown and Kevin B. Chavous, split the anti-Alexander vote to earn 22 and 21 percent, respectively. Another 10 percent went to William "Rev. Bill" Bennett II. Brown was the sole non-incumbent endorsed by the Stein Club. He and Chavous tied for the top rating from GLAA in the Ward 7 race, with each earning 3.5. Alexander, meanwhile, earned a -3.5 from the GLAA. Bennett earned a -1.
In Ward 8, Barry matched Alexander for GLAA's lowest rating given in any race, -3.5. But he won more than 72 percent of the vote against three challengers with stronger GLAA ratings: Jacque Patterson, 2.5; Sandra "S.S." Seegars, 5.5; and Darrell Danny Gaston, 4. Because no candidate received 60 percent of votes of Stein Club members, no endorsement was issued in the Ward 8 race.
In the city's heated At-Large Democratic primary race, voters had four choices: incumbent Councilmember Vincent Orange; interim Councilmember Sekou Biddle; former Prince George's County Councilmember Peter Shapiro; and E. Gail Anderson Holness. While Biddle and Shapiro earned GLAA ratings of 5.5, compared to -1.5 for Holness and .5 for Orange, it was Orange who seemed to carry the day with huge margins in Wards 5, 7 and 8.