Ask Michael Kahn if he's happy and here's the response you'll likely get:
"Last night, I was walking around the house and I said to myself, 'Are you happy?'" muses Kahn, seated in the Patrons Lounge on an upper floor of Sidney Harman Hall, the sumptuous downtown arts complex he spearheaded, which serves as the main base for the Shakespeare Theatre Company. "And then, I said, 'Michael, stop asking yourself that question. That's not the question to ask. Are you doing the things that would make your life better? Are you allowing things to happen that do not make your life better, and if so, why are you doing that?'"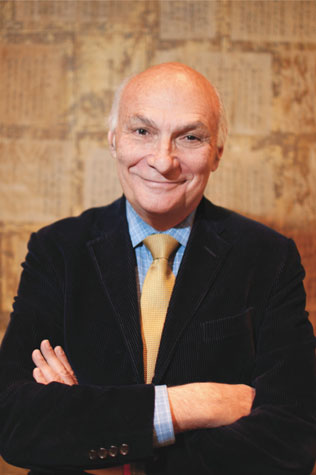 Michael Kahn
(Photo by Todd Franson)
He pauses.
"What we all should be asking ourselves is not are we happy, but are we doing the things that would make life easier, pleasanter? Are we? Or are we not? And if we're not, then of course we're unhappy. And if we are, then maybe we're happy."
He sighs. And shrugs.
"But you can't be happy all the time anyway."
His rich, evocative answer is exactly what you'd expect from Kahn, a stimulating, revealing conversationalist, who this year celebrates his 25th anniversary as artistic director of the Shakespeare Theatre Company. When Kahn first arrived in 1987 to take over the floundering Folger Theatre, it was as though Washington had been blasted by a theatrical force of nature. Kahn bolstered the local theater community in ways that still can't be completely quantified, helping to spur an organic process that allowed other theaters in this town – Studio, Woolly Mammoth, Signature, to name a few – to achieve their own remarkable growth. Even Arena Stage, long the pinnacle of America's regional theaters, was not left un-impacted by Kahn's influence.
One could easily imagine a Kahn memoir as a massive, deeply involving tome, detailing his career (for many years, in addition to his Shakespeare Theatre duties, he was head of Juilliard's drama department); his pivotal, life-changing events (his mother died when he was 13, and his partner of 24 years, Frank Donnelly, died Sept. 12, 2011, while grief counseling in New York at Ground Zero); and his loves (in his college years he harbored affection for classmate Terrence McNally, now one of the world's most renowned contemporary playwrights, of whom he remarks, "Crush is a very small word for a very large set of feelings"). And yet Kahn dismisses the very idea of a memoir with a wave of his hand. "No," he says, "I'm not going to write a book. There are other things I want to do."
So, what exactly are those other things? Kahn himself doesn't know. Currently, he's content to remain at the head of arguably the largest, most respected classical theater in the country – the scope of which he has expanded to allow for more than just Elizabethan works by Shakespeare and his cronies. In fact, Kahn has just directed a production of Eugene O'Neill's Strange Interlude, a drama rarely done, but when done right, breathless in its scope and dramatic power. [See our review.]
Yet after 25 years at the helm, does Kahn, who is in his "early, early, early seventies," actually foresee an exit?
"I must say, I'm looking to what I might be good at doing next," he confides, "which would not be the same thing as what I'm doing now. And if I knew the answer to that more clearly, I could answer your question better. But this is not going to last forever. It's getting to be time." He intimates that he'd like to do something within the realm of interviewing famous arts figures, but is perplexed as to how to make it happen. Still, he concedes, "as long as I feel I can do my job [here] well, with enthusiasm, I'm okay."
And then Kahn, with a twinkle in his eye and playful arch of the eyebrow, remarks with a laugh, "I'm sure there are young directors around waiting for me to die. But seriously, I think it will be very exciting when somebody new comes into this theater and remakes it."
Until that time, however, Washington and its Shakespeare Theatre are fortunate beyond all measure to have Michael Kahn at the helm.
METRO WEEKLY: Do you remember the very first play you ever saw?
MICHAEL KAHN: Yeah, I do, actually. It was a version of The Bluebird by Maurice Madorlink. My aunt took me to see it. It was a children's theater. I don't remember the play so much, but I remember when I got there, some grown-up handed me programs and said, "Would you be an usher?" And I did. I was an usher. I handed out programs. The play was wonderful – I remember there were a lot of bluebirds – but I remembered most being asked to be a part of it in a certain kind of way. Involving children in some way as not just spectators. I felt very grown-up and very much a part of this thing, which is probably why I'm a director and not an actor. Because I identified in some fashion as being part of it.