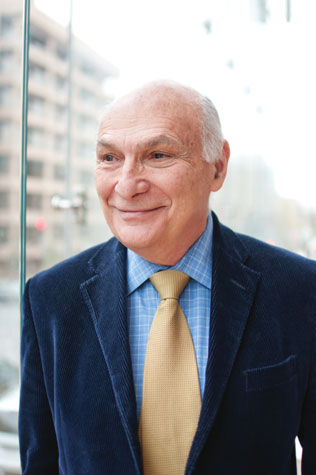 Michael Kahn
(Photo by Todd Franson)
MW: Had you not been a director, what kind of actor do you think you would have made?
KAHN: Not a very good one. I studied acting at the Performing Arts High School in New York. I wasn't a very good actor for quite a few years. They kept saying to me I should be a critic. I think they knew that I was smart, and that I was not an actor. Not that I was an intellectual, but I used my head more than anything else. So they wanted me to be a critic. Anyway, I did learn how to act and I got the Best Actor of the Year Award when I graduated.
MW: Do you think a good director needs to know how to act?
KAHN: No. I think he has to know how to help other actors act better. I don't think it hurts to having gone through the experience yourself. But you don't have to be a good actor.
There are more and more directors now who don't go through acting training, but go through art or history training, stuff like that. I think that's all wonderful, but I do believe that the actor is, in the long run, the most important instrument on the stage. No matter how important the visuals are. I think that if you don't understand the mechanism of acting, you're not bringing to the table all the tools you need.
Now I, who taught generations of actors, know that no actor works the same way as another. You cannot just impose, as far as I'm concerned, a way of acting on an actor. You really have to try and intuit where that actor is and what that actor needs and doesn't need right away, how you can help open them up. For many years, because I didn't quite understand that, my impatience and my need for it to be right sometimes would shut actors down. Or the fact that I know enough would sometimes let an actor abdicate. Because if there's a very strong director in the room, sometimes they just go, "Okay, just show me." And then you're never satisfied, because, of course, what you want is them to do what you want better.
MW: Do you get frustrated when a performance doesn't get where you want it to be?
KAHN: Well, sure. I mean how could I not get frustrated? Some actor will say, "My God, you show your frustration no matter how much you try to hide it." I keep a lot more of that to myself now, because I've had enough experiences to know either in the long run you'll get it or you'll never get it. There's a lot of negotiation between your idea of a part and the performance of the actor.
MW: You could argue that plays, as organic art forms, evolve with time. If the performance isn't there right away it could eventually get to where you want it to be during the course of the run.
KAHN: I've learned this: If you rehearse it well, it will improve. If the rehearsal has been clear, the beats are established, the motivations are established, the actors have trust in each other, the rhythms are somewhat clear, it will get better. You really have to let an actor try something that you know is wrong – get it out of their system, or learn something from it. If you haven't allowed those things to happen, they will creep in after you're gone.
MW: You spent 25 years of your career here.
KAHN: I have. Half my career.
MW: Which is pretty remarkable. I remember when you first arrived here. Who knew that you'd be here 25 years later?
KAHN: Definitely not me. Definitely not me. There's nobody more surprised of the fact that I'm here. But it's very funny, this 25th anniversary thing. I have only lately started telling stories about my life to people. I never have done that. I never told anecdotes, because somehow what's been going on at the moment is more important to me and I don't really look back a lot. So assessing 25 years? It's something I just don't do.
I was very moved at the 25th Anniversary Gala as all these people spoke about me. I remember thinking, one, nobody is as nice as they're talking about, and two, this is like your fantasy of having your memorial service while you're alive. And I said, "This could be exactly my memorial service. I just hope everybody is 20 years older."
MW: Well, reflect for a moment here. What do you consider you best accomplishment?
KAHN: When I'm told I helped make Washington a theater town, that's the thing I feel the best about. Not so much about the achievement of the Shakespeare Theatre – which is just work for me – but what it's meant to the arts. [Studio Theatre founder] Joy Zinoman once said to me, "You really raised the bar of theater in Washington." That comment still is the one I feel most proud of.
MW: You introduced celebrities to our theatrical landscape. Harry Hamlin, Patrick Stewart, Avery Brooks, Kelly McGillis, Stacey Keach, to name a few. You brought nationally famous actors to Washington who became part of the normalcy of things here. Now all the major theaters do it in some fashion or another.
KAHN: I remember one person saying, "What are you doing with all these stars?" I said, "I'm bringing in actors who can do this material, and I'm not hiring people who can't. They're going to get the same salary as Floyd King, who's our own star."