Washington is an international city, overflowing with embassies and other global institutions. That's not to say, however, that the District is brimming with Old World charm. That's where Irene Khashan's Café Berlin comes in.
A stone's throw from Union Station, the Capitol Hill constant has been whipping up authentic, seasonal German dishes for more than a quarter century. Khashan is quick to point out, however, that her idea of authentic German doesn't necessarily agree with conventional wisdom.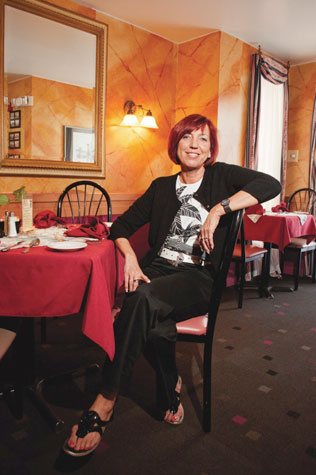 Cafe Berlin: Irene Khashan
(Photo by Todd Franson)
"People have such an impression of German food as heavy," says Khashan, holding on to the delightful German accent she brought from Bavaria in 1972. "It's not true. We brought all the young cooks here from Germany to do something different. We wanted to cook lighter fare."
That she did. But it wasn't her first mission in America. Khashan arrived to serve as an au pair for a D.C. family. While that gig didn't necessarily suit, the U.S. did. "Americans were much friendlier than Europeans," she notes, explaining that she went from kids to cuisine, landing a job at Georgetown's Old Europe, where she worked from 1974 to '79, when she headed west and worked in a San Francisco health club.
In 1984, she got the call to come back.
"One of my friends I worked with at Old Europe, she called me back and we decided to open up a restaurant. This was what we knew," she says. "Though there were things we wanted to do differently."
And a star was born, though Khashan and her two initial co-owners didn't know they would become just that hot. That took Phyllis Richman, the legendary Washington Post food critic.
"It was a day before Mother's Day when this article came out," Khashan recalls, adding it was the restaurant's second year, 1986. "Phyllis Richman was very powerful. She could make you or break you. The Post came in and said, 'We want to take some pictures. Phyllis Richman is writing you up.' Believe me, we were all sweating till the article came out."
Today, that review hangs in the restaurant's bar.
"She gave us a very good write-up," Khashan says. "That really brought us into the picture. We were very happy, very relieved."
Reviews aside, Khashan says the local gay community has also been key to Café Berlin's success. That's part of the reason Café Berlin has long participated in Dining Out for Life.
"From the start of the restaurant, the gay community really supported us, helped us a lot," she says. "We want to give something back."
Café Berlin is located at 322 Massachusetts Ave. NE. Make reservations by calling 202-543-7656 or visiting cafeberlin.com.
Read more about some of our favorite featured restaurants;