Roxann Rowley wasn't struck by lightning, but a similar experience sparked her dance career.
"I was hit by a car crossing the street," Rowley explains, "and after realizing that I wasn't seriously injured, I decided that maybe I should move – maybe I should continue dancing."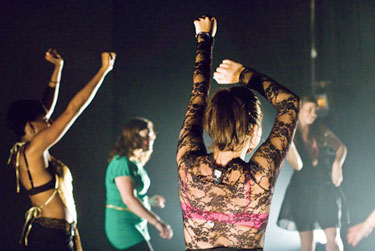 Next Reflex Dance Collective
(Photo by Delaine Dacko)
Rowley had danced at her San Diego high school and at George Washington University, where she even earned a dance degree. But until the car accident she had been working at an area homeless organization, not seeing dance as a viable career.
The accident changed that, nudging Rowley to pursue a master's degree in dance at George Mason University. These days Rowley serves as co-artistic director of Next Reflex Dance Collective, formed with Erika Surma six years ago. And this weekend, Next Reflex presents Electric Shutdown and the Pea, in which Dance Place will be transformed into a nightclub featuring all manner of music and dance, from hip hop to house to rock. The company has created "wildly exaggerated" female characters you'd find at a nightclub, says Rowley, from "rich bitches who use daddy's credit card and hate each other" to "the dorks…who don't really know how to dress for a club, but they really like to dance." Rowley, who in real life is married with children, is one of the show's "cougars," or "barflies that have been clubbing for years."
"I get to wear very long boots and flirt with the men," she says with a grin. Rowley and the dancers, which include two men, one a go-go boy, perform among the audience – there's no set stage, or fourth wall. The show includes an audience flash mob section, featuring dance moves one can learn at Next Reflex's website, and culminates in a performance with a live band.
Patrons should come ready to move and mingle, says Rowley, and should dress "in your club clothes," even if you're a "dork."
"Oh man, if you wear white sneakers to the club, that's awesome!" '
Electro Shutdown and The Pea is Saturday, April 21, at 8 p.m., and Sunday, April 22, at 7 p.m., at Dance Place, 3225 8th St. NE. Tickets are $22. Call 202-269-1600 or visit danceplace.org.
Here's an early look:
And the flash mob lessons: