We are the parents of a transgender child, Jackie. And we decided to tell our family's story on television, in the April broadcast of the national public television newsmagazine series In the Life. Few families like us would want their story made so public, with good reason – and that is exactly why we decided to do it.
Before Jackie came into our lives, each of us had our own expectations for her. Brian is more interested in superheroes and science fiction than sports. When he first found out that we were having a boy, he was thrilled. Brian would have someone to watch Star Wars with and read comic books to. For Halloween, he would dress up as Batman, and the boy would dress up as Robin. He could not wait for that. As for Maria, she knew before her sonogram that her baby would be a girl. Little did she know that she would end up being right.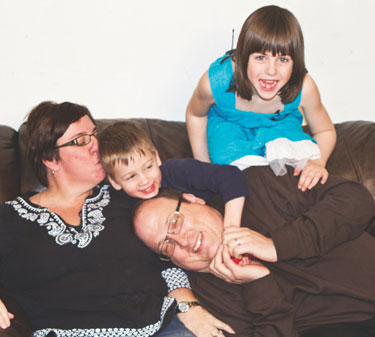 Maria and Brian Singer with their children, Lucas and Jackie
(Photo by Courtesy Brian and Maria Singer)
One of the first questions that we always get is, "When did you realize Jackie wanted to be a girl?" In Jackie's case, she never was a boy. She never wanted to play sports or dress up as Batman and Robin, and we have still not watched the original Star Wars trilogy. When Jackie fully came into her identity as a girl at around the age of 3, she was all girl. She loved princesses, Barbie dolls and wearing dresses. She would wear a Cinderella dress over her regular clothes. She wore it everywhere: to the mall, to pre-school and even to the doctor's office. When, after much discussion and preparation, we allowed Jackie to start fully dressing as a girl in school her happiness was impossible to ignore.
Were either of us ever upset that our Jack was now Jackie? No. We did have to adjust, but we were grateful that she was simply alive. When Jackie was 3 years old, she fell out of a second-story window at her daycare. She was rushed by helicopter to the hospital. We still have images of her with tubes down her throat and a neck brace. More than anything, we are glad that she is alive and that we get to see her every day, hug her, and be with her.
Jackie is our child, and we are going to protect her because that is our job as parents. Period. Our memories of the day she was born, the day she said her first word, or the day she took her first steps, did not change. She is in so many ways an "ordinary" little girl who prefers Disney princesses and The Doodlebops to superheroes. She still hates to go to school because she would rather be outside playing, and it is still difficult to get her to eat her vegetables and brush her teeth.