Mitt Romney's campaign tonight announced that it has hired Richard Grenell, an out gay former George W. Bush administration official, to serve as the presumptive Republican presidential nominee's "national security and foreign policy spokesman," according to a report from The Washington Post that did not mention Grenell's sexual orientation.
Grenell served through September 2008 in the Bush administration as a spokesman to the U.S. ambassador to the United Nations — and told The Advocate's Kerry Eleveld as he left the administration that it was his hope that New York would have marriage equality soon and that he would one day be able to marry his partner, Matt Lashey. The couple has been together 10 years.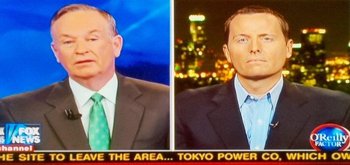 Log Cabin Republicans executive director R. Clarke Cooper, who also served in the Bush administration, tells Metro Weekly that Grenell will be "a tremendous asset" to the Romney campaign.
"Having served with Ric," Cooper says, "I can attest that his experience in the multi-lateral environment of the UN and familiarity with domestic and international media make Ric a strong voice."
Of his politics and experience, GOProud executive director Jimmy LaSalvia noted, "It's Obama and Romney now, so we're going to be talking about all the issues affecting the American people and the whole world. Ric has been around during some very important times in world affairs and … certainly has the experience to help the campaign deal with and respond to crises around the world as they develop this year."
Andrew Sullivan, who had endorsed Obama's 2008 run, wrote of the news, "For Romney to have an openly gay spokesman is a real outreach to gay Republicans, a subtle signal to moderates, and the Santorum faction's reaction will be worth noting."
LaSalvia didn't see that as relevant, saying, "I think [Romney] picked the best person for the job, and I think that's all you should read into this."
Human Rights Campaign vice president Fred Sainz, whose organization endorsed President Obama's re-election before the first Republican primary, says of Grenell's hire, "While I disagree with his politics, I'm certainly glad that a man of his standing is represented in the Romney campaign."
Sainz, who worked with Grenell back in the 1990s in the office of San Diego Mayor Susan Golding (R), praises Grenell's brains, despite disagreeing with him politically.
"Ric is one of the smartest people I know. I have know him for over 15 years and he's a man on integrity and deep emotional conviction," Sainz tells Metro Weekly.
At the end of Grenell's service in the Bush administration, he took a notable whack at the administration, telling The Advocate's Kerry Eleveld of his effort to have his partner, Matt Lashey, listed in the United Nations' Blue Book, which is "a reference guide of contact information for different member states of the United Nations as well as diplomatic personnel and their spouses."
Grenell had attempted to have Lashey's name added several times, to no avail. He told The Advocate back in 2008, "What put me over the edge was a friend and colleague who met her spouse after I was already with my partner — they got married and subsequently were put into the Blue Book in a matter of days."
The State Department eventually told him that the Defense of Marriage Act prevented the listing. Although he protested the decision behind the scenes, Lashey's name was not ever added, which led to his coming forward to criticize the treatement publicly as he left his post.
Grenell cited his help for LGBT groups, though, as an accomplishment of his time in the Bush administration. He "helped secure two former U.S. ambassadors to the U.N., John Danforth and John Bolton, to give keynote speeches at Log Cabin Republican conventions," according to The Advocate's report, as well as succeeding in getting some LGBT groups accredited at the U.N.
Of his relationship with Lashey and the possibility of marriage, he told The Advocate in 2008, "It is not an option for us in New York, but hopefully someday soon it will be. In my mind, and in Matt's mind, this is it. We're married."
Grenell tells Metro Weekly that he and Lashey are still together and living in California, which does not have marriage equality — although its ban on marriage equality, Proposition 8, is being challenged in federal court.
The news of Grenell's hire comes in the same day that it was announced that Romney, who opposes marriage equality, would be the commencement speaker at the Jerry Falwell-founded Liberty University — news examined by Think Progress's Igor Volsky, who looked at the university's anti-LGBT history.
Obama likewise opposes marriage equality but has said that his personal view is "evolving." His Department of Justice stopped defending Section 3 of the Defense of Marriage Act, the federal definition of marriage, in court more than a year ago — a decision that Romney has strongly criticized.
[NOTE: This story was minorly updated throughout at 1 a.m. April 20 to reflect Grenell's relationship status.]
[Photo: Grenell, right, appearing on Fox News. (Photo from Facebook.)]