"It seems like a lot of theaters take themselves a little too seriously," says Mickey DaGuiso. That's certainly not true of Landless Theatre, the company the gay actor and music director is currently associated with. This season alone the charmingly wacky company has produced shows such as Cannibal! The Musical and Devil Boys from Beyond – shows as serious as their titles suggest. Which is to say, not very.
Starting this weekend, Landless presents Spidermusical, a low-budget spoof of the most expensive show in Broadway history, Spider-Man: Turn Off The Dark by U2's Bono and The Edge.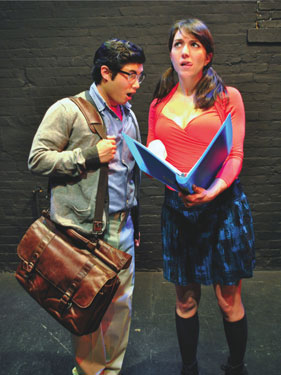 Spidermusical
(Photo by Amanda Williams)
"The show is about this teenager who gets bitten by a radioactive spider," explains DaGuiso, who plays the teenager, named Peter Partker – that's Parker with a "t." DaGuiso also plays Spider-One, the "half-man, half-spider" superhero that Partker becomes, committed to stopping a war-mongering genome researcher.
In recent years the 30-year-old DaGuiso has acted in many local productions at area community theaters, including Dominion Stage's Altar Boyz. But the area native has done more prominent work as a stage accompanist and music director, for companies including Washington Improv Theater and the Studio Theatre. For Landless, DaGuiso music directed the 2010 spoof Perez Hilton Saves The Universe, written by Timothy Michael Drucker and Randy Blair, or the same time behind Spidermusical.
In fact, DaGuiso was supposed to do it again for Spidermusical, but, well, you could say he got bitten by the bug. "I was supposed to play the piano and music direct, but I threw my hand in for playing Peter," he says.
DaGuiso, who works by day in development for a nonprofit agency, especially enjoys performing with Landless. "They're very open, very non-judgmental," he says. "Not just for what they choose to [produce], but in terms of the cast and everyone you work with.
"I don't think we take ourselves too seriously."
Spidermusical opens Thursday, April 5, at 7:30 p.m. and runs weekends to April 29, at 'District of Columbia Arts Center (DCAC), 2438 18th St. NW. Tickets are $25. Call 202-462-7833 or visit landlesstheatre.com.