Growing up in suburban Maryland, the most dangerous element in young Cyndee Clay's life may have been going to public school. Hers was a conservative Mormon upbringing.
Today, as the executive director of D.C.'s Helping Individual Prostitutes Survive (HIPS) and sporting magnificent blue dreadlocks, one might guess Clay's trajectory did not follow its expected path.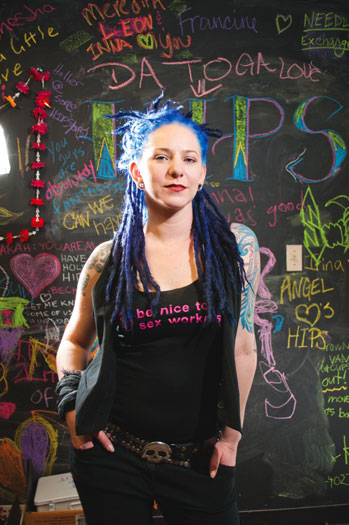 Cyndee Clay of HIPS
(Photo by Todd Franson)
"I'm not living the life that my folks had hoped that I would live, but they can still see the good in what I'm doing and really support me in that," says Clay. "The awesome part is that I know that my family still loves me, and I still love my family."
With a sly laugh, the 38-year-old adds, "We don't get into the details a lot."
Clay's fans go beyond family. Philip B. Terry-Smith is one of those fans, as well as a professional peer. Having headed the now defunct Prevention Works! harm-reduction agency with values similar to those espoused by HIPS, he knows the challenges Clay faces daily.
"She's very intelligent, very connected to the community, and she epitomizes outreach," says Terry-Smith. "She's out on the streets at 3 a.m. At Prevention Works!, she was one of my closest allies."
He adds that the work Clay leads at HIPS is crucial in any metropolitan area.
"Unfortunately, for many of the young people in our community tossed to the streets, for transgender people who can't get jobs, the sex-work industry can be the only place they can get an income," he explains. "To have someone who can reach that population is vital."
Vital as it may be, Clay is also dealing with budget cuts, having recently lost about $300,000 in city funding, more than a third of her annual budget.
"It's a lot of belt-tightening," she confirms. "We've always prided ourselves on running a highly cost-effective program. We utilize about 60 volunteers to make our programs work, and we've always been able to be pretty nimble. We're going to squeeze every last penny out of every last dollar to do work that we are all just really dedicated to and believe needs to happen. But it's been hard to raise money, especially from individuals. We're trying to tackle issues in a very honest and real way, and it can be hard to engage people.
"We lost all of our victims-assistance funding," she adds, working her way through a catalog of program cuts. "That was primarily our crisis services, 24-hour assistance to anyone engaged in sex work. We lost that funding right before the wave of violence that hit the transgender community, which was heartbreaking. You want to talk about a time that was heartbreaking? That was definitely it. We had these amazing programs and protocols set up, but then we no longer had the funding to utilize them."
Clay, who lives in Petworth with her partner, Michael, Great Dane, Maeve, and adopted alley cat, Kitty, manages to roll with the punches, though. She continues the outreach, making inroads where she can, as well as wading through the wonky business of spreadsheets and conference calls. And she does it with charm, humor and a sense of social justice that may well trace its roots to her Mormon upbringing – even if her current spirituality is closer to the pagan.
You get traces of all three when you ask if she's had the opportunity to see The Book of Mormon on Broadway.
"No! And I really want to," she laments. "You can't get tickets. You have to get 'em like a year in advance. Ex-Mormons should get a special pass or something. I'm going to organize the Former Mormons Working in Social Justice movement to get us into The Book of Mormon."
What do you want, Cyndee?
"Tickets! When do we want 'em? Now!"
METRO WEEKLY: Your HIPS bio has your career sort of starting in 1995. What happened?
CYNDEE CLAY: That's when I began to get clued-in to the whole worlds of sex work. I was still in school and had some friends who had some experience around sex work.