While Youth Pride Day may have gotten its start in Dupont Circle, there was much more room out of the way down at P Street Beach. Marking the 15th anniversary of the Youth Pride Alliance's annual signature event, however, Youth Pride Day returned to the circle in 2011.
Turns out all the extra space at P Street Beach wasn't so great after all.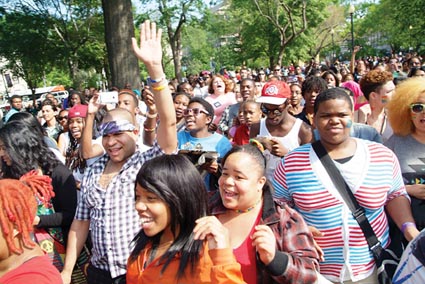 "Oh, my God, I can't tell you how many people were like, 'You'll be in the circle again, right?"' shares Nikisha Carpenter, president of the Youth Pride Alliance, confirming the 16th anniversary celebration, Saturday, April 28, will stick to its Dupont roots. "There's something about that closeness, having everybody right there, people walking through, just hanging out and everyone being involved. There's no need to be spread out."
What there is a need for, however, is more youth entertainment. Carpenter says that after polling 2011 attendees, there was a clear desire to see more young people in the Youth Pride Day spotlight, so that's the tack Carpenter and the rest of her board have taken.
"This year we have all sorts of youth entertainment," Carpenter promises, pointing to singers, drag performers and more. "There's a lot of very talented youth excited to be onstage."
Along with the entertainment, there will also be several speakers addressing the crowd, says Carpenter, representing city government and various organizations. Of course, congressional Rep. Eleanor Holmes Norton is scheduled to speak as part of Youth Pride Day tradition.
"We're so excited to have her," Carpenter says of D.C.'s delegate.
But while Carpenter and the rest of her board have taken care of the preparations, securing the venue and entertainment, taking care of myriad variables, one thing that will forever remain beyond the board's control is the weather. At this particular time of year, Washington never really knows what's coming, weather-wise, and Youth Pride Day has had to call off the happening more than once. The alliance has, however, done what it can and has set a rain date, May 12, in case Mother Nature is in a foul mood.
"Unfortunately, we won't know until the night before, at the earliest," Carpenter warns, explaining that the alliance takes its cue on whether to postpone from the National Park Service, which manages Dupont Circle. There are multiple ways to keep current on any postponement, though, such as the Youth Pride Alliance Facebook page, the group's own website or its Twitter feed.
Youth Pride Day is scheduled for Saturday, April 28, in Dupont Circle park, from noon to 5 p.m. In the case of inclement weather, the rain date is Saturday, May 12. For more information, visit youthpridedc.org.