You won't see drag queens in swimsuits at the Miss Gay Arlington pageant.
"There are several queens who God blessed with an extremely good body, and many of their numbers incorporate swimsuit-like attire," says Daniel Hays, promoter of the pageant, which takes place Saturday, April 28, at Freddie's Beach Bar. But like most drag contests, Miss Gay Arlington celebrates those who like to put on extra layers of costumes and makeup to create a female persona — the focus isn't the body.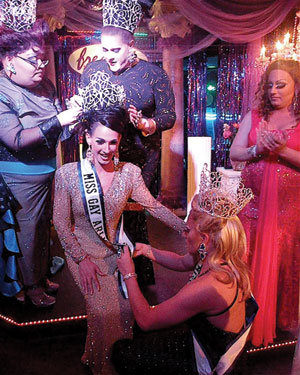 The Arlington Gay & Lesbian Alliance presents the pageant, now in its second year, as a way to reach a younger demographic. According to Hays, former president of AGLA, the pageant also provides "an entry step for those queens who want to compete in the pageant world but aren't very well established."
Kristina Kelly, Ophelia Bottoms and Charity B are among those will perform during the show, along with
Diamond D. Bottoms, who is the inaugural Miss Gay Arlington and will crown this year's winner. Hays expects to enlist at least two and as many as seven contestants, competing in evening gown, talent and on-stage question categories as well as "presentation." "All contestants will have to incorporate some kind of a Mardi Gras-themed attire in that category," Hays says, noting that Diamond is originally from New Orleans.
Pageant-goers, who should reserve a table in advance if they want to guarantee a seat, are also encouraged to wear Mardi Gras garb. The pageant is at Freddie's, after all, so the crazier, the gaudier the get-up, the better.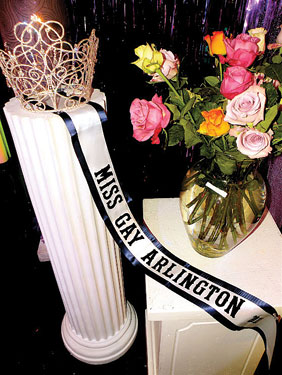 For his part, Hays, currently recovering from major neck surgery, plans to wear a suit and tie, something less demanding than what the legislative analyst for the Department of Labor would normally wear, at least when portraying his drag alter-ego Muffy Bottoms.
Muffy, you might say, has been muzzled for the time being.
Miss Gay Arlington is Saturday, April 28, at 8 p.m., at 'Freddie's Beach Bar, 555 South 23rd St., Arlington. Cover is $10. Call 703-685-0555 or visit freddiesbeachbar.com.'