Strip the art from Shakespeare's Taming of the Shrew and you are left, more or less, with a rather bitter, violence-prone woman who, married against her will, is (at least by her social standards) deprived by her dominant new husband until, as a matter of social survival, she exchanges her ire for the role of doting, subservient wife. Add the art back in and Petruchio's full-bore wedding and wooing of the recalcitrant Katherine is full of wit, beautiful language, and a very entertaining frisson.
But in this play, the Bard left something of a question. Marrying her sight unseen in exchange for a tidy sum offered by her long-suffering father, Petruchio's post-nuptial behavior can be read in more than one way. Does he grow to love Kate as he "tames" her to society's requirements? Or is it the darker process of bending this exciting woman to his will that gets him interested? Of course, capturing human nature as aptly as he does, perhaps Shakespeare intended a bit of both.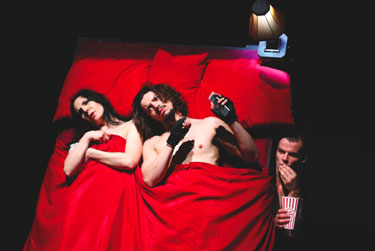 Taming of the Shrew: Synetic Theater
(Photo by Johnny Shryock)
Still, most companies staging Shrew ignore the nastier possibilities, not least because making it a love-match makes the premise, at least for a modern audience, that much more palatable. If it's funny and romantic, the subjugation of Katherine's will feels a lot less repugnant, even if it still rankles.
Launching from this particular pad but taking his interpretation to an unusually feverish height, Synetic's adaptor/director Paata Tsikurishvili offers a passionate and artistic Petruchio who grows to love his Kate with such intensity that, despite his initial dominance, find that the tables have turned and he is enslaved to her. Though such an inflamed interpretation might be hard to suggest on the conventional stage, Synetic's meld of dance, mime and music, offers the perfect medium. Of course it is a license, but in the capable hands of this company, it is a poetic one.
Surrounding this interesting take on the well-known tale is an even broader re-envisioning of the world of the Shrew, but one very much in keeping with Synetic's signature. Re-casting Padua as a clownishly-satirized Hollywood pounding with rhythms appropriated from the street, choreographer Irina Tsikurishvili (who also takes the role of Katherine) keeps the troupe in a frenzy of movement that owes as much to the real circus as it does to the media circus the characters court. The eye is drawn here, there and everywhere and then all at once, the entire ensemble is breaking into synchronized step.
It is a frolic of an idea, overflowing with the bright color, stark lighting and emotive music of Konstantine Lortkipanidze — which veers between the whimsical and the ruggedly trip-hoppy — and as always it holds Synetic's wry but friendly comment on the state of human affairs. And there are moments of breathtaking inventiveness here such as when Katherine and Petruchio's marital bed upends itself to display their nocturnal battle. Still, for those well familiar with Synetic, there are also moments when the action in some ways masks a thinness; this is a profoundly creative company enjoying much success — how about a few more risks?