Leg warmers, roller disco, an Aussie pop star cavorting on the big screen as a muse from Greek mythology…. Gee, the '80s got off to such a strong start, how did the decade ever manage to go awry?
Not that the cinematic mess that is Xanadu is a complete cultural stain. The soundtrack — brimming with Olivia Newton-John and Electric Light Orchestra hits such as "Magic," "Suddenly," "I'm Alive" and the ecstatic title song — is nothing to be ashamed of. And the film itself is so bad, it's… well, certainly not good, but at least memorable enough to inspire a loving send-up in the 2007 Broadway musical of the same name.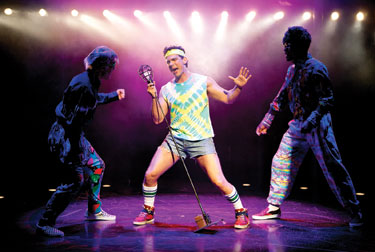 Xanadu
(Photo by Scott Suchman)
Gay playwright Douglas Carter Beane (The Little Dog Laughed) has adapted the screenplay to wickedly funny effect, and additional ONJ and ELO hits "Have You Never Been Mellow," "Evil Woman" and "Strange Magic" have been thrown into the score because, you know, why the hell not? It all adds up to, in the words of one character, "children's theater for 40-year-old gay people," and it proves to be an exceptionally fine fit for Signature Theatre.
If you are not a gay person of a certain age, you could be forgiven for wondering why Xanadu ever resonated as it did for that generational niche. (Did we mention leg warmers, roller disco and an Aussie pop star as a muse from Greek mythology?) But you may not forgive yourself if you don't avail yourself of the 90 minutes of blissful musical comedy that Signature is delivering.
Director-choreographer Matthew Gardiner sets the perfect tone of sexiness and silliness called for in the tale of Sonny (hunky, hunky Charlie Brady, whose tube-socks-and-denim-cutoffs-clad legs deserve their own billing), a sweet stoner artist in Los Angeles who creates a sidewalk chalk mural that becomes an Earthly portal for the daughters of Zeus, the nine muses (Erin Weaver, Sherri L. Edelen, Nova Y. Payton, Mark Chandler, Jamie Eacker, Kellee Knighten Hough and Nickolas Vaughan) who personify creative inspiration.
Weaver is Clio, the one who takes a shine to Sonny when he needs help to realize his dream of a place that combines all of the art forms into one supreme creation — a roller disco! giggle — and who adopts the name Kira, roller skates and an Australian accent to camouflage her muse-ness. And yes, her "sisters," as she calls them, include two flamboyant men because, you know, why the hell not? And yes, there are only seven of the nine muses onstage (two are said to be in the band) because, you know, nine muses would be expensive!
Harry A. Winter rounds out the cast as Danny (the Gene Kelly role in the film), turning on the easygoing charm for the role of a real-estate magnate who had his own encounter with Kira years earlier and who holds the key, literally, to an old theater, the Xanadu, that is Sonny's roller disco destiny. Various other mythological roles are handled hysterically by Winter (as Zeus) and most of the muses when the action shifts to Mount Olympus, where Sonny travels to save Kira from her father's wrath after she breaks several muse rules, including falling in love with a mortal.
Incorporating Newton-John's 1975 single "Have You Never Been Mellow" here may seem like a gratuitous gesture. But once you hear lyrics such as "running around as you do, with your head up in the clouds" sung to Zeus, on Mount Olympus, that's brilliant stuff.
XANADU




To July 2
Signature Theatre
4200 Campbell Ave.
Arlington
$63-$86
703-573-SEAT
www.signature-theatre.org
Much of the vocal and comedic burden falls on Weaver, but she rolls with it (ha!) effortlessly, and there are plenty of shining moments to go around in the talented cast. There are quibbles to be made: Brady's lovely voice, though amplified, is harder to hear than Weaver's, which seems like an error of Matt Rowe's sound design; the colorful whimsy of Misha Kachman's set is marred by rope lights that spell out Xanadu in huge, barely legible letters that mimic but fail to match the show's logo; and although dialogue emphatically places the action in 1980 (the year of the film's release), there are references in the script and staging — to the movie Clash of the Titans, to Mr. T's "I pity the fool" catchphrase, to a My Little Pony doll (standing in for Pegasus; cute, but still…) — that date from later in the decade.
Beane and Gardiner are clearly clever enough that they shouldn't need to rely on such incongruities. But the glitches pale next to the pleasures that dominate the evening. And once Kira comes to understand the true meaning of Xanadu — that it's not a place, but simply the act of loving and creating — you may feel that as delightful a destination as Xanadu has become, maybe it didn't start out in such a bad place after all.
Read Metro Weekly's interview with Xanadu's Director, Matthew Gardiner, and watch a preview video.