"I guess it's time to take it in, my gaydar needs some inspection," Simone Battle sings on her peppy song "He Likes Boys." Battle, you see, fell for a pretty boy who likes Desperate Housewives, Lady Gaga, and dresses like an American Apparel mannequin.
"I wrote that song in my songwriting class," Battle explains. "It was inspired by a true story about me and my now best friend."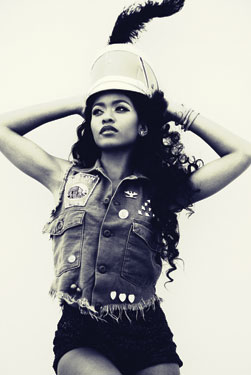 Simone Battle
(Photo by Michael Flores)
"I'm glad that it's taken lightly," adds Battle. The fun song's sentiment – and sound – is totally sweet and sensitive.
Battle, who you may recognize from The X Factor, or as a backup dancer and singer on tour with the Black Eyed Peas, will perform her gay-positive song this Sunday, May 27, as part of DC Black Pride. "I'm really excited about Black Pride," she says. "I'm glad that my lyrics and music speak to the gay community." Among other songs and covers, Battle will also perform her newest song "Bad Girl." "It's a really playful song about letting loose and being free, and not being afraid to be bad sometimes," she says.
"Ever since I can remember I wanted to be a singer," says
the 22-year-old Battle, born and raised in Los Angeles. Her parents have been supportive of her pursuits as an entertainer — as long as it doesn't interfere with her studies. "Both my parents are teachers," she says. "So they really make sure I go to school and do well in school." In fact, Battle is juggling her performance career with earning a bachelor's degree focused on the music industry at the University of Southern California. She has two semesters left.
In addition to performing in plays and musicals as well as ballet, Battle spent some of her free time during high school acting as an extra on TV shows including CW's Everybody Hates Chris and Nickelodeon's Jamie Lynn Spears show Zoey 101. Most recently, she appeared as a lead character in Mario Van Peeble's high school flick We The Party.
She plans to do more acting, but her first love is music, and she's currently spending time in the studio working on an album. She's spent a little time with will.i.am in the studio, and remarks of the Black Eyed Peas, "We still have a pretty cool relationship." Touring the world with the Peas two years ago "was just one of those experiences you can never forget. It really motivated me to want to do it all over again, but instead of being back-up, be a headliner the second time around. It really gave me a taste of what I'm working toward."
Battle is less sanguine about her time on The X Factor last fall. She decided to audition for it on a whim. "I kind of just wanted to see what would happen," she says. Simon Cowell booted her out just before the live final rounds in favor of eventual winner Melanie Amaro.
"If I was able to make the decision again, I probably wouldn't do the show," Battle says bluntly. Although she is grateful for the exposure the show gave her, she wasn't pleased with her portrayal. "Being on X Factor, you kind of give up your creative freedom and allow the producers [to decide] how they want you to be seen to the public," she says.
On X Factor, she was portrayed as sassy and over-the-top. "I gave that little extra umph for the camera and they kind of twisted and made that my entire essence…. [In real life] I'm goofy. I'm subtly kind of nerdy. I'm really just genuine and honest," adding, with a laugh, "I'm only a diva onstage."
Simone Battle performs Sunday afternoon, May 27, as part of DC Black Pride Health & Wellness Expo outside the Francis-Stevens Educational Campus, 2425 N St. NW. Free. Visit dcblackpride.org.