If opera is your music for heartbreak and plots be damned, then Massenet's gorgeously overwrought Werther is for you. This is boy meets already-engaged girl and gets thoroughly histrionic – nothing more, nothing less. Yet as a musical experience of impossible love, Massenet's score flows with a sweet poignancy and ominous portent that truly delivers.
Of course, the simplicity of the narrative, based on the late 18th century novel by Goethe (which was so feverishly received it induced a rash of suicides), allows some latitude in interpretation. And the production playing at the WNO, set in rural 1920s France (note the wine-drinking villagers), makes good use of it. Schematic sets suggesting doors opening onto wheat fields and a big sky effectively evoke the continuum of nature and, when children fill the space, the time in life before the inevitability of loss and heartbreak. It is a gentle, well-choreographed atmosphere that hangs in the mind potently as Werther descends into his, admittedly self-induced, nightmarish despair.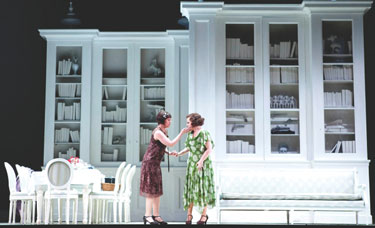 Werther
(Photo by Scott Suchman)
This interpretive freedom is used again to good effect in Act 3 where the austerity of Charlotte's marital home subtly suggests the social constraints of her new life. Indeed, director Chris Alexander brings a strong all-around vision to this piece, capturing potently the idea that a person in abject despair can exist, virtually undetected, in the midst of community life.
What works less well is the rather over-obvious attention to the fashions of the time, which leave Charlotte and her friends looking more costumed than authentic. But, having said that, this is hardly an opera striving for realism.
Indeed, what this opera strives for is an emotional authenticity in the building of Werther's frenzy as he realizes again and again with ever-fresh heartbreak that Charlotte cannot be his. This, of course, rests largely in the lap of the tenor, and here Francesco Meli is remarkably genuine in voice and character. Appealing and expressive, Meli very much looks the part of the ardent male who, at pretty much the drop of a hat (Charlotte: "You hardly know me!"), imbues his target with cosmic grandeur. Singing with lyric intensity, Meli drives and rides Massenet's emotional train with gratifying fervor, even if his top notes, if nicely sustained, can occasionally be just the tiniest bit grating. As for the opera's heartrending aria "Pourquoi me reveiller," Meli brings it home with enough color, passion and power to give even the corporate seats goose bumps.
WERTHER
[4 STARS]
To May 27
Kennedy Center
Opera House
$25-$300
202-467-4600
kennedy-center.org/wno
As the somewhat bewildered Charlotte, soprano Sonia Ganassi is convincing when it counts, but tends to play to her outfits with gestures and poses that feel contrived. This aside, she sings with an agile melancholic delicacy that contrasts well with Meli's hot emotion. And it is, without doubt, her vocal conviction that helps temper the giggle-worthy absurdity of Werther's Guinness World Records death scene. (Oh, yes. Strap in.) But for pure acting, it is the cleverly conceived scene in which Charlotte is trapped at her own dinner party while Werther prepares to kill himself that Ganassi is at her best. She is credibly desperate, a woman who knows that true love is slipping through her fingers. After all her equivocations and silences in the face of Werther's ardor, this is Charlotte revealed.
In another role largely open to interpretation, Charlotte's husband Albert is here given a certain outraged menace which, though sung well, is a little over-played by Andrew Foster-Williams. Still, the approach works well to explain Charlotte's reluctance to face her feelings. As Charlotte's younger sister, Sophie, soprano Emily Albrink sings with sweet clarity and convinces as a girl eager to be courted. As their father, the town bailiff, Julien Robbins is a strong presence, his voice contrasting nicely with his village friends: tenor Tim Augustin in the role of Schmidt and Kenneth Kellogg as Johann.
But as an opera of the heart, the real question here is whether the passion, however overblown, captures. Here, the answer is a resounding yes. From the sensitive but intense performance drawn from the Washington National Opera orchestra by conductor Emmanuel Villaume, to the delicate voices of the joyful WNO Children's Chorus, this is a Werther in which to indulge the bitter dream of heartbreak.