With a busy narrative, a biblically minded libretto, and a director who assumes a cogent, educated audience, the Washington National Opera's Nabucco isn't for those who like their opera pre-chewed and delivered on a spoon. But for those who can roll with it, director Thaddeus Strassberger delivers a keenly paced drama and a seriously gratifying opportunity to savor some of Verdi's most instantly accessible and yet deeply beautiful music.
Yes, you will want to read the program first so you can join the story without confusion. And, yes, you will have to be patient with the uncompromisingly unrushed scene changes that eventually explain themselves. And yes, it will help if you are a drooling admirer of the mid-to-late 19th century European aesthetic. But however you come to it this is a potent operatic experience.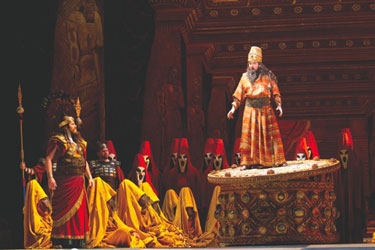 Nabucco
(Photo by Scott Suchman)
Premiering in 1842 as Italians rallied against control by the Austrian Empire, Strassberger re-conceives the piece as a play-within-a play in which a (small) contingent of privileged Austrians watch an Italian production of the opera. It is a thoughtful device, for as the ancient Israelites seek to overcome the domination of the Assyrian emperor Nabucco, the theme aptly echoes the history and sentiment of the opera's time. Strassberger gets even bolder with this concept as the opera progresses and though, as a practical matter the transitions are too slow, once established, the moments Strassberger creates are captivating – if more intellectually than viscerally.
Even better, at least for those who crave the occasional dose of good old-fashioned opulence, setting the operatic performance in the 19th century also allows Strassberger to indulge in the evocative joys of antiquarian set design. Rich in whimsical patterns and a palette of flat golds, reds, oranges and blues, his sets are an Old Europe rendering of the ancient and exotic in all its romance and mystery. Add the vibrant costume-jewel-colored costumes of Mattie Ullrich and the effect is visually stunning and resonant.
But Strassberger is also a strong storyteller. Though the stage is filled with the ebb and flow of a skillfully choreographed choral presence, the human drama emerges with urgency. For even as the Israelites battle Nabucco, it is soon apparent that the tribes have mingled enough that the young Hebrew general, Ismaele, has fallen in love with Nabucco's younger daughter, Fenena, despite the advances of older sister Abigaille. When Nabucco's hubris draws down the ire of heaven and he goes mad, Abigaille wastes no time in assuming her father's power. Vengeful and ambitious, she pursues the Israelites, and thus Ismaele and Fenena, with relentless fervor until Nabucco finally makes peace with the Hebrew god.
Nabucco is known for the challenging vocal role of the formidable Abigaille and those who can take the holistic approach will not be disappointed. Put another way, though soprano Csilla Boross cannot deliver Verdi with consummate agility, she is nevertheless intensely riveting. With a vocal power in synch with her character's ruthless nature, this is a woman who ensures that her will – and her voice – soars above all others. Bottom line: This is a charismatic, furious villain you will love to hate.
Providing a vocal and thematic counterpoint to the red-hot Abigaille is bass Burak Bilgili's well-drawn Zaccaria. Leader of the Israelites, Zaccaria is all about the mission statement. Though such roles can quickly turn wooden, Bilgili keeps his elder an engaging presence, singing him with an expressive and sonorous authority.
Another gem here is tenor Sean Panikkar, who, though in a smaller vocal role, surprises with a well-powered, clear and pleasingly toned tenor. Between his impressive sound and dashing countenance, he seems poised for bigger roles.
Working less well, considering the scope of the role, baritone Franco Vassallo delivers a somewhat uneven Nabucco. Though he brings a certain burning-eyed presence to his emperor, his singing – even with its compelling delicacy – at times feels uneasy with the music. This tendency disappears by the end of the opera and, imprisoned and desperate, his Nabucco is finally at one with Verdi.
On par with the soloists, the chorus in Nabucco plays an essential musical and emotional part. Here the WNO chorus delivers the thunderous, the quiet and the rhapsodic with excellent texture and unity. Moving between Assyrians, Israelites, front and backstage, the transitions are handled seamlessly even when practicalities dampen the momentum. Thus, despite the long scenic preparations before the well-known "Va, pensiero," in which the chorus sings of the Hebrews longing to return to their homeland, the piece and its encore are beautifully executed.
NABUCCO




To May 21
Kennedy Center
Opera House
$25-$300
202-467-4600
kennedy-center.org/wno
In smaller supporting roles, Geraldine Chauvet sings a sweet and appealing Fenena with a good command of Verdi, while Soloman Howard gives his High Priest of Baal a certain menace and attractive tones. Tenor Jeffrey Gwaltney cuts an impressive figure as Abdallo and sings with expression if not quite enough power (though one suspects it is in there somewhere). Soprano Maria Eugenia Antunez gives her Anna dramatic color when she is distinguishable from the crowd, and a clear, rich tone. Finally, conductor Philippe Auguin draws a strong, often lively, performance from the WNO orchestra.
So, bring your reading glasses and a bit of patience and be transported to two different moments in time, history and myth as they mingle in color and sentiment. And when the curtain falls, don't rush for the exit. Good things come to those who wait.