Even Jack Black isn't sure if his newest film, Bernie (see review, page 54) is a comedy or a tragedy — but don't hold that against him. Black plays Bernie Tiede, a middle-aged gay mortician who, despite being a beloved figure in a small Texas town, shot and killed his 81-year-old heiress companion (Shirley MacLaine), then stuffed her in a freezer. That kind of story isn't just funny or tragic — it's somewhere in between.
"It's a very dark comedy," Black says. To prep for the role — which, to say the least, is a significant departure from the likes of Kung Fu Panda, or even School of Rock, his last collaboration with Bernie director Richard Linklater — Black arranged to visit Tiede in the prison where he's been incarcerated since 1997.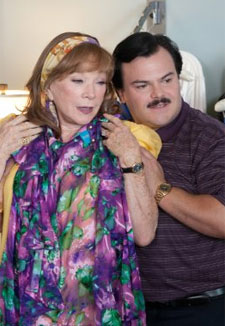 Bernie: MacLaine and Black
"He's very gentle and kind of shy, but very warm. The least likely to commit a murder, is what you'd think," Black says. "But, he's got to live with that murder for the rest of his life. He's got that on his, uh, résumé."
Complicating his performance even further is the question of Tiede's sexuality. While he was never out as a gay man, a murder investigation revealed his closeted sex life to the public.
"Bernie's never said, 'Hey, I'm gay and out in public about it,' so we didn't bring it out like that in the movie," Black says. "In a small town like Carthage, Texas — a very conservative town — there's not a lot of people out of the closet. If you've got homosexuality in your life, you're gonna keep that to yourself."
Although it's a stretch to compare it to Bernie, gay issues aren't new to Black, who starred in Prop 8: The Musical on Funny or Die in 2008. And if you ask him, it's only a matter of time until gay rights are embraced by American society.
"People are people," he says. "All people should be treated equally. It seems like a no-brainer, it seems obvious that that's the way civilization is moving—to acceptance, not back to the dark ages." — Chris Heller
Bernie opens Friday, May 18, at Landmark's E Street Cinema, 555 11th St. NW. Call 202-452-7672 or visit landmarktheatres.com.