Beloved for more than half a century since its Broadway debut, The Music Man is certainly a musical comedy that's earned the label "timeless." Yet what director Molly Smith does with that concept at Arena Stage doesn't exactly do Meredith Willson's 1957 masterpiece any favors.
Unmooring the paean to small-town life from the 1912 setting Willson specified and setting it adrift in a twilight zone of ever-shifting 20th century decades (ranging up to at least the '50s, it appears), Smith executes what's described in the program as "a vision of America's past, with echoes of today," an approach that feels as heavy-handed as it sounds and that adds more of a contextual burden than the show can comfortably bear.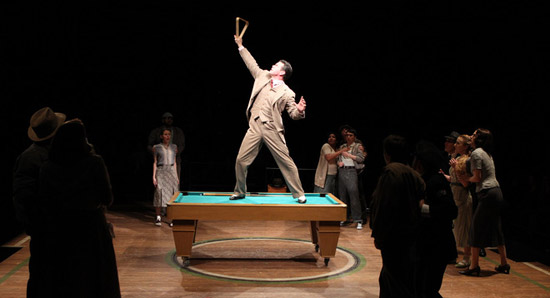 The Music Man
(Photo by Joan Marcus)
Inspired by his childhood years in Iowa, composer-lyricist Willson, who co-wrote the book with Franklin Lacey, beckons you to get lost in the tale of Harold Hill (Burke Moses), the con man redeemed by the love of Marian the librarian (Kate Baldwin) while trying to pull one over on River City by claiming that the corrupting power of a new pool table at the billiard hall can only be offset by the virtues of a boys' band, which he will happily supply and lead – unless, of course, he happens to be on a train out of town, fistfuls of cash in hand, before the first note is played.
But it's hard to completely immerse yourself in Willson's world when you hear a reference to knickers and there is nary such a garment in sight among costume designer Judith Bowden's dizzying array of gorgeously executed looks. Or when Harold repeatedly mentions that he was in the Gary Conservatory of Music's "class of aught-five" and you try to do the math based on the decade of the moment, since the apparently 40-something Moses would at times have to be pushing something like 70. Or when Smith decides to have the town ladies, suspicious of Marian's intellectualism, jarringly resort to book burning, as if they're casual fascists having a bit of Nazi-style fun in the '30s.
Thankfully, the radiant score – brimming with treasures such as "Ya Got Trouble," "Seventy-Six Trombones" and "Till There Was You" – and the top-notch cast are resilient enough to transcend moments of directorial over-/under-/what-was-she-thinking. Moses and Baldwin are nothing less than delightful, creating potent romantic chemistry in their portrayals of Harold's suave confidence and Marian's hopeful yearning, which Baldwin voices beautifully in songs such as "Goodnight My Someone" and "My White Knight."
Using a minimalist approach to fine effect on the expanse of the Fichandler Stage, set designer Eugene Lee gives choreographer Parker Esse plenty of room to fill with attractive young dancers who pull off several big production numbers with effortless flair, although even they can't compensate for Esse's glaring misstep: his laughably bad choices for the already ridiculous song "Shipoopi." (A squatting motion that corresponds with Willson's made-up word? Never a good idea.)
THE MUSIC MAN



and a half
To July 22
Arena Stage
1101 6th St. SW
$46 to $91
202-488-3300
www.arenastage.org
The initially muted tones of Bowden's costumes effectively, if predictably, give way to vibrant colors as enthusiasm builds for the boys' band and the townsfolk awaken to the vibrance that music infuses River City with, courtesy of the Music Man who can't even read the first note. It would be a cold, cold heart that isn't warmed by the emotional high points that Smith and company expertly hit, especially when Harold connects with young Winthrop (Ian Berlin), Marian's little brother, filling the void left by the death of their father, and when Harold finally lets down his con-artist guard enough to recognize his feelings for Marian, in one of those breathtaking romantic moments that musicals are made for.
You may wish that this Music Man marched forth with a lighter step – that you didn't see so much of the director's concept leading the way, when the material is on such solid footing to begin with. But this is still an impressive spectacle that many won't want to miss.