Some gay people grow up to run screaming from conservative Christian upbringings. Not David M. Pérez. This Southern California native embraced the values of his youth and carries them forward into his social-justice work today.
"I did my high school career report on being a pastor or a missionary," he shares, fully committed at one point to adulthood as Pastor David, president of his high school's Christian club. "I always had that hunger, I think from my parents, to give back and to help other people, to love your neighbor as yourself. … My parents were kind of my examples in Jesus Christ as my example for social justice, having concern for other folks. That's one of the longest identities for me."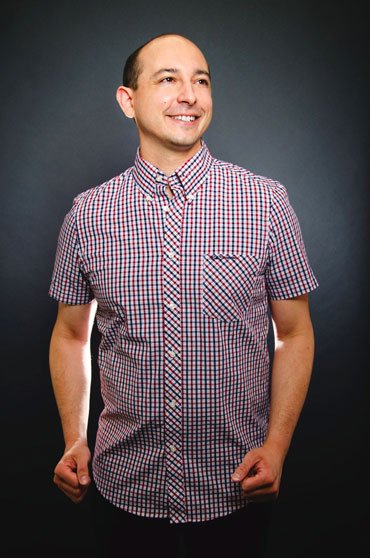 David M. Perez
(Photo by Julian P. Vankim)
As Pérez grew up, though, other identities emerged. During his undergraduate years at Biola University, a private Christian institution in Southern California, studying Spanish, social science and biblical studies, Pérez thought there might be better ways to mold his career. Maybe his calling wasn't the pulpit. Serving humanity, however, was a fixed variable in Pérez's formula.
"I realized that maybe my mission was helping folks in a different way that wasn't necessarily being a pastor at church or missionary, but through politics or through advocacy," he says of his undergrad transformation – a transformation that essentially brought him to D.C. and Georgetown University's School of Foreign Service to earn a master's degree in Latin American studies. That transformation also included coming out.
"I came out in August 2006 to my friends here in D.C.," remembers Pérez, today 28. "I was with two straight friends and two gay friends, actually, at Cobalt. It just finally slipped out. I'd been trying to tell folks for a long time. I'm really close to my family and I wanted to tell them in person. There was crying, it was an emotional experience. We're still learning how to communicate. I haven't brought anyone home yet. I would hope someday I could bring someone home and they'd be accepting. They know about my boyfriend, Gary."
That's not to say that things are tense with his family. When Pérez heads west to visit, he cherishes his time with his parents and two siblings, and even happily heads back to the conservative church of his youth.
"If I'm in town," which is fairly consistently, "they love me to be there on Sunday. Everyone knows me from growing up. Everyone's really friendly. Everyone is kind to me and treats me well. I'm sure they all know I'm gay, but people treat me the same way, with respect. It's the golden rule that Jesus taught. They're conservative, evangelical – but in Southern California. Moving here to the East Coast, I learned 'conservative' is a little different."
Pérez also learned, as adults should, to tread his own path; to take the principles instilled in him by his parents and church and move forward with them. That path has taken him to all sorts of places in D.C. At Georgetown, he even had the good luck to get some guidance on that path from Joseph Palacios, one of his professors – and an openly gay, Latino, Catholic priest.