The Department of Justice has accepted the Equal Employment Opportunity Commission's April 20 ruling that claims of gender identity discrimination are a type of sex discrimination that is illegal under Title VII of the Civil Rights Act of 1964 — a ruling that could set in motion a series of changes in the way transgender people are treated by the federal government.
The ruling, first reported by Metro Weekly on April 23, arose from a complaint brought by the Transgender Law Center on behalf of Mia Macy, a transgender woman who lives in California, against the Bureau of Alcohol, Tobacco, Firearms and Explosives. Macy claims that she was denied employment with the ATF after the agency learned of her transition, which took place after she left her previous job with the Phoenix Police Department.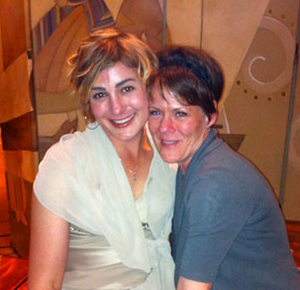 The ATF Office of Equal Opportunity sent a letter to Macy dated May 18, a copy of which was received today by TLC and reviewed by Metro Weekly, stating that it was accepting for investigation Macy's claims of discrimination "based on gender (female), gender identity, gender stereotype, and or transgender status." Initially, ATF, which is within the Department of Justice, had stated that Macy's gender identity and "transgender status" claims were not able to be brought under Title VII, which led Macy to appeal her complaint to the EEOC, which found that her claims could be brought under Title VII.
In the May 18 letter, ATF states, "In accordance with the [EEOC]'s decison dated April 20, 2012, we are processing your entire complaint under Title VII." Under the EEOC procedure for such complaints, the ATF — or Macy — had 30 days from the receipt of the EEOC decision to request that the EEOC reconsider its decision. That deadline would have fallen sometime this week.
Macy's complaint, according to the letter, is now going to be investigated by a "Contract EEO Investigator" hired by the ATF.
Although the ruling from the EEOC is not the same as a definitive Supreme Court ruling on the question of whether transgender people are protected under Title VII's prohibition on sex discrimination, the decision has substantial impact because it is binding on the EEOC, all its field offices and all federal department and agencies. The EEOC's interpretation of Title VII and other civil rights laws are given significant deference by federal courts.
In a statement, TLC executive director Masen Davis says, "This is a historic day for human rights in the United States. From the Deep South to my home state of Missouri, starting today transgender and gender non-conforming people now have legal recourse if they face discrimination on the job. We no longer have to be silent when we are fired or not hired simply for being who we are."
Mara Keisling, the executive director of the National Center for Transgender Equality, points out that the EEOC ruling did not come out of nowhere.
"This is how it's been going. So, in some ways, this was just an inevitable step touched off by Schroer [v. Billington, a case in the U.S. District Court for the District of Columbia] and [U.S. Court of Appeals for the Eleventh Circuit decision in] Glenn v. Brumby," she said, referencing two of several court cases in recent years reaching similar conclusion to that reached by the EEOC in Macy's appeal. "This [EEOC decision] is not the first step, by any means."
Looking ahead, she says, "There's still a lot more steps to go. We still need [the Employment Non-Discrimination Act]. We still need an executive order [to ban federal contractors from discriminating on the basis of sexual orientation and gender identity]. We still need a hell of a lot of training." A hearing on ENDA is scheduled in the Senate Health, Employment, Labor and Pensions Committee for June 12, but White House officials have said that President Obama does not plan to issue such an executive order at this time.
As to implementation of the EEOC decision, Keisling notes, "The EEOC needs to make sure all of their own people are trained. The Office of Federal Programs, which does all of the federal government work, needs to make sure that all of the EEO officers throughout the federal government and … [Office of Personnel Management] needs to make sure all of the chief human capital officers] understand this decision."
Keisling adds that the EEOC may need to issue guidance, as it does in other situations, to clarify the effect of this ruling on private employers — a possibility raised by Freedom to Work founder Tico Almeida previously. The Office of Federal Contract Compliance Programs, which is in the Department of Labor, she says, "in theory, should be interpreting the existing federal contractor rules [that ban sex discrimination] to include trans people" — a point advanced recently in a report issued by the Williams Institute.
Asked what the immediate next steps for her organization are, she says, "We keep educating employers that they now have a legal obligation to follow this. We keep educating trans people that they have rights that they may not have thought they did have."
Practically, as Masen puts his advice to trans people, "If you think you are being targeted with harassment or discrimination at work, I urge you to contact your local EEOC office and file a complaint."
[Photo: Mia Macy, left, and her wife, Trish. (Photo courtesy of the Transgender Law Center.)]