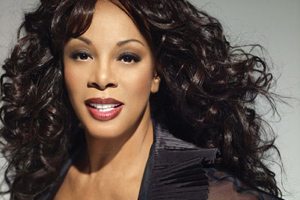 When I first came out as a college student in the mid-'90s, the gay dance club in Columbia, Mo., would end the night with Donna Summer's "Last Dance."
And why should it be otherwise?
"Yes, it's my last chance, for romance, tonight," Summer sang, as the queens sang right along with her – and sized each other up one last time, looking for "my Mr. Right," at least for the night.
Well, sadly, it's time to turn up all the lights in clubland: The Queen of Disco and Dance died today in Key West, Fla., of breast and lung cancer, according to the Associated Press.
Summer, born LaDonna Adrian Gaines only 63 years ago, may not have had many hits in the past two decades. But the gospel-reared pop belter's place as a reigning and enduring diva in clubland – and the gay community in general – was established long, long ago.
If largely unfounded and certainly outdated claims of anti-gay comments couldn't dethrone her, fortunately, neither can death.
"So many years ago, on the radio, she crept into your soul, and loved to love you, oh-oh," Donna Summer sang, subtly referencing a couple of her biggest hits, on "The Queen Is Back." That appealing 2008 track came from her album Crayons, her first all-new set in 17 years – which was better and fresher than I had expected, at least. And her voice was as supple and glorious as it had ever been.
Just think about all those hits that were the soundtrack to gay nights out: "On The Radio," "Bad Girls," "Hot Stuff," "Love To Love You Baby," "Heaven Knows," that wondrous duet with another gay diva Barbra Streisand, "No More Tears (Enough Is Enough)" – and that was just a sampling of her biggest hits from a prolific run in the '70s. "She Works Hard For The Money" was one of a few post-disco '80s hits, and then every few years from the '90s on Summer would score a club hit, from "I Will Go With You (Con Te Partiro)" to "You're So Beautiful" to "Power of Love." (What's your favorite Donna Summer hit? Take our poll and tell us what you think?)
Over the past decade everyone from Madonna to Beyonce to Jennifer Lopez has sampled or covered Summer's hits to fashion hits of their own. And Summer's most enduring hit, the orgasmic "I Feel Love," has still not left DJ playlists. DJs value the song, co-produced with Giorgio Moroder, and its many remixed versions, as a secret weapon: It just may be the best, most quintessential dance song ever, one that will rejuvenate any fading dance floor. The song never gets old no matter how many thousands of times you've heard it.
Especially over the past decade Summer became an active performer at AIDS-related benefits and gay dance events, and donated to the fight against AIDS. Two years ago, she told me before a concert at Wolf Trap that she was preparing to record both a new dance album and a standards set.
It's not clear how close to completion she was on either set at the time of her death.
In that same interview, she also said that her hit "Last Dance" was her personal favorite. "That song is tied in with a lot of personal memories. And there's something magical about [it], honest and truly," she told me. "I used to see Judy Garland, and she would be in her light and in her moment. And there are times in that song when I have a sense of that [same] feeling. Everybody knows the lyrics, they're singing it back to me. There's a real connection in that song. That's beautiful."
Heaven knows, it's true.
Get Soundwaves, Spotlight, and all our blogs in your inbox. Join our mailing list.