An interesting thing happened when Christopher Cunetto met Jason Edward Tucker. One could almost call it a Big Bang for the D.C. queer artistic community, but that might be a bit of an overstatement.
It was more like a Big Bang followed by a slow, thoughtful burn.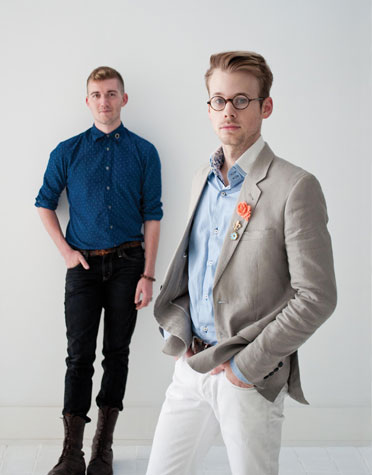 Boys be Good: Tucker & Cunetto
(Photo by Todd Franson)
The two artists – one who concocts delicate, sumptuously detailed works using an array of colored pencils, the other who deploys a camera to convey images that are by turns startling, disturbing and erotic – formed an instant bond. And from that bond grew the notion to bring others of a similar mind into their world to form, in essence, a collective.
And so, these two young, gay artists (Cunetto is 24, Tucker 21), drawn together by a simple act of fate (the loaning of a camera), in 2010 started Boys Be Good, a queer artists' collective now on the brink of its third, most ambitious, exhibition yet.
Opening on June 5 at the lesbian-owned Arts@1830 Gallery at 1830 14th St. NW, Debitum Naturae will feature works by Cunetto and Tucker, as well as Nicholas Abriola, Armando Lopez Bircann, Cassidy Duhon, Andrew Fogle, Pussy Noir, Rene Medrano and Daniel Rampulla. An accompanying 'zine is being designed by Shawn Moriarty, and a night of performance is planned for June 19, with a portion of the proceeds from the suggested $15 donation going to the It Gets Better Project.
"We started thinking about growth and decay," explains the Missouri-born Cunetto, a tall, slim fellow with an impossibly thick pompadour and a light coating of blond facial scruff. "Debitum naturae means the debt of nature. Conceptually, it refers to the greatest gift you can get from nature is the gift of life. So the duration of your existence is the repayment of this debt – the debt of nature. It's a nice poetic container for the idea of growth and decay."
How does that relate to a queer context? The San Francisco-raised Tucker, a tall, handsome, gentle-yet-passionately-voiced young man, alludes to the AIDS crisis.
"I find it really interesting that we're choosing this sort of theme and the responses that we've gotten because all the artists in our group are in their 20s," he says, quietly. "I didn't live at the beginning of the AIDS crisis, so I don't really have a connection to that generation and that sense of loss. And I feel as though there's quite a bit of a disconnect within the gay community between older generations and younger generations." He's hoping the show will help to bridge that gap.
"As a collective," Cunetto adds, "the gesture of taking these moments, distilling the humanness of them and bringing them into the present, is something that we're really invested in, because the artwork is about preserving a legacy and connecting to things that are more universal than politics or pundits would have you believe them to be."
Itself far from decay, Boys Be Good – which not long ago launched a website (boysbegood.com) – is in a potent stage of growth and emergence. While some queer artists' organizations, such as the Triangle Artists Group, still operate in a limited capacity, and others, such as Ganymede, have ceased to exist, Boys Be Good seems perfectly poised to bring queer arts back to a renaissance state within the D.C. community. Currently, its membership – and perspective – are limited to younger gay men, something Cunetto and Tucker don't see as a flaw. And while neither rules out an eventual expansion in the core membership, the growth, they insist, should be slow, steady, deliberate.
"The thing that is remarkable to me," Cunetto marvels, "and that I take a great amount of pride and joy in, is that the artists we work with are incredible. They are engaged in making culture and artwork and experiences that are meaningful." He pauses. "It's incredibly edifying that we get to work with a group that's so committed."
Indeed. Let's hear it for the boys.