Maybe you don't love Judy Garland. Maybe you don't understand or – gasp! – respect her ties to the gay community, or why she still has a hold on so many gay men of a certain age. There's even a name for their idol worship: Judyism.
Myopia aside, if that's your deal, you're still not off the hook to see End of The Rainbow while it's on Broadway. To be sure, there are flaws in the story this British import by Peter Quilter tells about Garland in her twilight, in the months before she accidentally overdosed on barbiturates, as she worked to make yet another comeback. In the vivid play with music, we see Garland both on stage and in her London hotel suite, where she's settled in for a five-week run at a theater performing cabaret.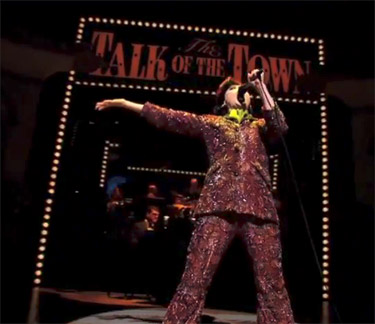 End of the Rainbow
But there's nary a flaw in the actress in the spotlight: Tracie Bennett, who doesn't so much impersonate as embody Garland. The actress was only eight years old when Garland died, and now at 50, she's also three years older than Garland lived. And Bennett is living as Garland eight shows a week at Broadway's ornate Belasco Theatre, giving her all.
Bennett even has the kind of humble backstory to make one swoon. Raised in an industrial British town, Bennett made her way to London's West End to become an actress. Over the years she's won two Olivier Awards – London's equivalent to the Tonys – but only for supporting roles. Before End of the Rainbow, in fact, Bennett told the New York Times the longtime chorus girl had effectively given up on becoming a leading lady. Kudos to director Terry Johnson for first tapping her in London and sticking by her for the New York transfer, which has now deservedly earned her a Tony nomination.
Bennett's is a brutally honest portrayal of a diva overwhelmed by her talents, too easily distracted from realizing her full potential. Her portrayal is not a note-for-note impersonation, though she does have the voice, the look, the mannerisms and above all Garland's cutting wit and sensibility down pat. Especially in the scenes in Garland's London suite, Bennett portrays a side to Garland that you know she had but one she hardly ever showed publicly: Her vulnerability, her insecurity and especially the toll that being all alone up on stage was taking on her. In this portrayal at least, she's incredibly lonely: She doesn't have any close friends, and she's not really connecting with the few people around her, chiefly her latest fiancé and her gay accompanist.
And that's where the flaws lie in End of the Rainbow, those two characters. Her fiancé Mickey Deans is first presented as her younger protector, a man she chose with the express purpose of helping her abstain from drugs and revive her career. It's not unreasonable to believe Deans would fail at that under her constant badgering for booze and pills, and given his history in the nightclub business. But to then pull a 180 and become an enabler, almost forcing her to do drugs? At least in the earnest way Tom Pelphrey has portrayed Deans up until that point, it just doesn't make sense. It's also a bit of a cheap shot: Giving the audience someone to blame for Garland's downfall. Someone, that is, other than the woman herself.
END OF THE RAINBOW




Belasco Theatre
111 West 44th St.
New York
Tickets are $31.50 to $199.50
212-239-6200
telecharge.com
Michael Cumpsty offers a sincere portrayal of Garland's gay accompanist Anthony, a devout Judyist. At the play's climax Anthony throws himself at Garland, asking her to marry him instead of Deans, in a manner that seems a strained attempt to express the idea that all men, gay as well as straight, failed this diva. There may be truth to the notion, but it's also critical to remember this was before the gay rights movement, before the 1969 Stonewall riots – which, of course, many argue were triggered by gay grief over Garland's death. (The riots started the very day after her New York funeral.) Gay men were still failing themselves at that point, so it's a bit much to equate them with Garland's failed straight suitors.
But through it all, there's Bennett, putting the spotlight on a tragic story and a tragic diva too easily forgotten in today's hyper-celebrity culture, when there's a new trumped-up tragedy and tragic heroine nearly every day.
Judy Garland was the genuine article.