When Everett Maroon puts his mind to writing, there's no telling what might come out. Take the novel Super Queers he's shopping around. It's your typical "D.C. LGBT yuppies go to Whole Foods, ingest sesame noodles with odd properties, develop odd super powers, save the world" routine.
"One guy's power is that if anyone touches him, they get an instant orgasm," explains Maroon from his home in Walla Walla, Wash. "There's a germaphobe who can create 'balls of santorum."'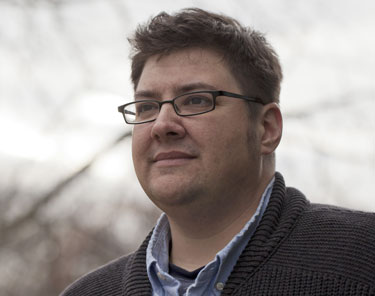 Everett Maroon
(Photo by Courtesy Everett Maroon)
Super Queers, however, is not the book bringing Maroon back to D.C., where a decade ago he helped found the D.C. Trans Coalition. No, the book that's bringing Maroon back is Bumbling into Body Hair: A Transsexual's Memoir. Friday, May 18, he'll offer a reading at D.C.'s Martin Luther King Jr. Library. The next day, he'll be the keynote speaker at Capital TransPride.
TransPride co-chairs invited Maroon not just for his ties to the founding of the D.C. Trans Coalition, but to inject some levity into the sixth annual event.
"From their corner of the bedroom, the place where I've made this foray into futility, my two cats watch me in what is either indifference or amusement, refusing to give anything away in their expressions," Maroon writes in the prologue to Bumbling, explain a long-lost attempt to strap down his bosom with cling wrap. "I notice the stench of fresh plastic and take stock of my situation. Now that I've wrapped myself in a roll of cellophane, my fingers are bleeding from the razor strip on the box, while sweat oozes out of my temples and armpits."
It's not pretty, but it is funny. And it's completely in line with Maroon's planned Saturday speech.
"I'm going to talk about humor and civil rights," says Maroon. He adds with a chuckle, "I could bring the 'angry Everett' with me, but everyone's over that."
Everett Maroon reads from Bumbling into Body Hair, available at Amazon for $14.95 or as an e-book for $2.95, Friday, May 18, at 4 p.m., at Martin Luther King Jr. Library, 901 G St. NW. Capital TransPride is Saturday, May 19, 10 a.m. to 4 p.m., at Westminster Presbyterian Church, 400 I St. SW.