"We are an ahistorical people," Cleveland attorney Leslye Huff says. "The number of lesbians in this town, who are under 40, who don't know that we had a monthly newsletter called What She Wants, that was run purely on volunteer energy and was just as present in our community as the Gay People's Chronicle," she says about the LGBT newspaper still published in the city. "It's that kind of thing.
"We don't have our history, so we don't connect the dots in the same way."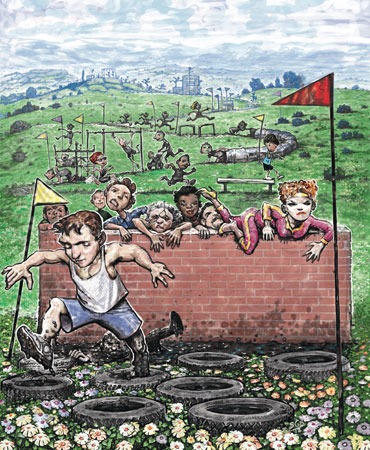 (Photo by Illustration by Scott Brooks)
Huff, who recently worked with the city of East Cleveland, Ohio, to pass an extensive nondiscrimination policy that provides LGBT people with the right to bring a civil lawsuit if the city fails to enforce the law, has a long history of combating racial, sexist and LGBT intolerance — and notices when people lose track of that history.
Connecting the dots is difficult within the LGBT community, but not the least of all because — as Huff and others say — the LGBT movement is not an organic movement. Although there are extensive similar problems faced by lesbians, gay men, bisexual people and transgender people, the difficulty of connecting the dots only becomes more difficult once it becomes clear that not everyone is attempting to create the same drawing.
From defining equality and looking at who's left out, to considering electoral politics, strong advocates of LGBT equality across the country are picturing, thinking about and working from very different ideas of what the LGBT movement is aimed at accomplishing.
Talking with one of the first out lesbian law professors, Rhonda Rivera, and the first out Episcopal bishop, Gene Robinson, one gets a glimpse into that history Huff values. Hearing from a 17-year-old high-school senior in Idaho, Marisol Cervantes, and the director of a program that works with homeless LGBT youth, Mark Erwin, adds further insights, as do the voices of trans activist and law professor Dean Spade and undocumented activist and law student Prerna Lal. Rory O'Malley performs on Broadway but is working for marriage equality with Broadway Impact, and Mimi Planas helps the Log Cabin Republicans in Miami open up the pathway for more conservative voices for equality. Finally, as his time at the helm of the Human Rights Campaign comes to an end, Joe Solmonese shares his thoughts on what has been accomplished — and why.
From Seattle to Miami, from Boise, Idaho, to New York City, these activists and advocates of all stripes believe that much is happening. Some like Spade, though, don't necessarily see what's happening as all good — and see a dramatically different direction that would be best for the pursuit of social justice.