WHO IS LEFT OUT?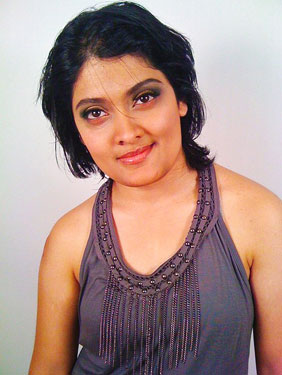 Prerna Lal
"I think everyone has a different concept of movement," Prerna Lal says. "I think for some it may relate to a list of issues that are pertaining to, say, the mainstream LGBT movement. I'm not sure if that list is what I share in common or not. For me, winning the movement means also winning rights for everyone, and that includes health care for everyone and immigration rights for everyone who's not seen as American or not seen as 'part of.' I think we have a long way to go."
Lal, who describes herself as "a queer Fiji-Indian (Pacific Islander of South Asian descent), currently a law student at The George Washington University," serves on the board of Immigration Equality and is an intern at the National Center for Transgender Equality. She also is "out" about her status as an undocumented immigrant, which she says was "scary at first" — but, she adds, "There's a growing acceptance of me being out there."
It also gives her insights, in small ways and big, about how being the "other," even within the LGBT community, can be a problem.
"If you're dressed in a traditional Indian [dress] at a gay bar, and you're told, 'Sorry, it's Ladies Night,' by the bouncer there who assumes that because you're in ethnic wear, you're not gay or lesbian or bisexual or transgender," she says, "that's an issue that has to do with our perception of 'gayness,' and how it's so white, I think, generally. It bothers me, because I live that life."
Huff acknowledges those issues, but puts them and similar issues — for all oppressed groups — in the context of her early life.
"My first memory of the larger world was of the picture of Emmett Till's face on Jet magazine," she says of the 14-year-old Chicago teenager who was brutally murdered after some claimed he had flirted with a married white woman while visiting family in Mississippi. The September 15, 1955, issue of Jet contained graphic pictures of Till's body after it had been pulled out of the Tallahatchie River.
"I felt the energy of my entire little town, all of the adults in my town, whether it was at church or at school or on my street, that's all that people talked about. It was as if they wanted to be able to say they could keep their children safe from that ever happening again. But they couldn't. They couldn't make the promise. So, there was this almost tacit agreement that if they couldn't promise the children it would never happen again, they would just promise to worry about it happening," she says.
"So that is what informed my early life — and the countermanding stories from my own personal family that were essentially tales of how we transcended all that. Those two things happening simultaneously in my head created an activism in me: The ideal was possible, and if we just worked hard enough and did enough and sacrificed enough, things would change."
That has been the work of Huff's life. Today, talking about her work on racial issues, on women's issues and on LGBT issues, she says, "It's all one thing for me. Whenever I'm sitting in one particular group, I'm always thinking about the group that's been left out of that group. That's just the part of what's going on in the back of my head as I speak."
But, she says, not everyone has always done so. Talking about the late-1980s, she says the groups that now make up the "LGBT movement" were still very segmented.
"There were gay men over here, bisexuals and transgender people virtually didn't exist … in the scheme of things, and then there were lesbians," she says. Then, somewhat a function of the AIDS crisis she says, "What happened is, we looked around, and the lesbian organizations dissolved, and we were left with this scenario of 'LGBT.'
"But none of the work had been done, really, to address the misogyny among men, or the racism among whites, or the tendency to cluster and be almost ghetto-like among minorities, or the tendency to let white people lead whenever there was a choice, or the invisibility of bisexuals. None of that work had been done. But there we were, talking 'LGBT."'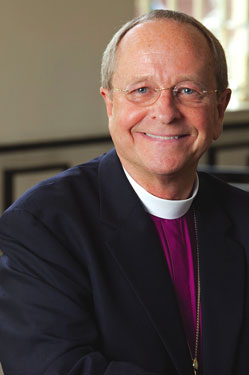 Gene Robinson
Bishop Gene Robinson adds that, within the LGBT community, work also is needed to address religious issues.
"It's really interesting having a foot in both communities — the religious community and the LGBT community. The fact of the matter is, 95 percent — and that's my figure, not based on anything but me and my own perceptions — 95 percent of the discrimination that we experience is the result of religion. Even nonreligious people use what they have soaked up in the culture of these religious views," he says.
As with education and work being done on race issues and sexism, Robinson says that, within the religious communities, change is happening. "I often say the church that you left may not be the church that's there now. If you're out of a denomination that is just hopelessly backwards on this issue, there are other places. There are places where you'll be welcome and where you can be who you are and be affirmed."
For some, though, the work to be done is far more fundamental than just a matter of education or being more inclusive of the "others."
"I should be straightforward that I don't usually use the term 'LGBT equality' because that term has come to really centrally indicate legal equality as a focus and goal of a certain strain of LGBT activism," Seattle University law professor Dean Spade, a trans activist, says. "And a lot of my work is about critiquing the centering of just trying to get antidiscrimination laws, hate-crimes laws, marriage and military inclusion."
He looks at the path forward very differently from, for example, HRC's Solmonese.