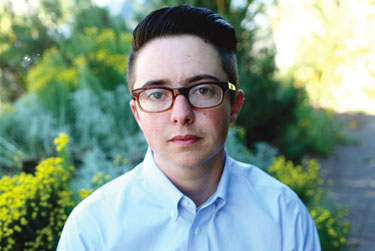 Dean Spade
"My work has been focused on centering racial and economic justice, and asking less what the law says about lesbian and gay and bi and trans people and more how legal systems are impacting us and how we can confront that," Spade says. "So, a lot of my work has been about shifting the focus from marriage, military, hate crimes, antidiscrimination laws to looking at how criminal systems, immigration systems, social service and social welfare systems impact queer and trans people who are highly vulnerable to different forms of violence, poverty, homelessness, immigration enforcement and criminalization."
Robinson, perhaps unsurprisingly, echoes a similar social justice frame in talking about his work with the church and throughout the country. In his work with St. Thomas's Parish Episcopal Church in D.C., he and the church plan to begin a "center for nonviolent conversation," aimed at "changing the nature and tone of the debate in Washington" — "not just tolerant, but respectful, and profoundly serious about loving your neighbor as yourself."
Robinson, like Spade, is not averse to calling out the shortcomings of those involved in advancing LGBT equality, and he squarely puts forward his views on the failure of the gay and lesbian world to engage fully on gender-identity issues.
"I also think the gay and lesbian community has a huge learning curve ahead for it," Robinson says. "In my experience, though we let the 'LGBT' roll of our tongues pretty easily, for the most part the gay and lesbian community is really ignorant about this incredible diversity of conditions that exist under the umbrella called transgender. What the transgender issue does is to say: This is way more fluid than anyone has thought before."
Of LGBT organizations' efforts to advance trans issues, he says bluntly, "It's like learning to not sound racist without changing your views. I think we have gotten a lot smarter about our language and so on to include trans people, but I don't see a lot of hard work going on that is beyond lip service."
Lal agrees — and points outside the LGBT community as well.
"We're definitely more behind on the trans issues in society than we are on the LGB issues," she says. "We still don't see gender as something that's a continuum, or we don't see it as something that's not fixed. It may have to do with our acceptance of women in general or femininity. We disparage women, we disparage trans people in some of the same ways because we are disparaging someone's right to be masculine or feminine.
"We're at a place when I think we can focus our efforts more on 'T' issues, which I'm trying to do personally myself."
At the Ruth Ellis Center, Detroit's program for LGBTQ homeless youth, program director Mark Erwin points to national attention on marriage equality as "incredibly important," but says that "there are other things, too, that we need to recognize as happening on a national level."
Of the population that he works with, he notes, "We know, of the 1.7 million homeless and runaway youth in the United States, up to 40 percent identify as LGBTQ. That is a hugely disproportionate number."
States away, 17-year-old Marisol Cervantes is still in high school, but is likewise working on youth issues.
"I started coming to the planning meetings," she says of the youth nights held by the Idaho Safe Schools Coalition that began her involvement in LGBT issues. "I started volunteering all the time, and then eventually I started writing workshops and going to conferences and presenting the workshops I wrote. Now, I'm investing my time and energy in creating new leaders for the organization."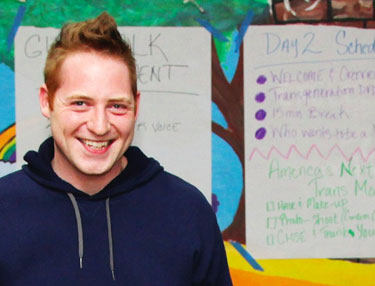 Mark Erwin
Erwin celebrates that impact — the differences that he says can happen to advance equality once LGBTQ youth have an affirming environment.
"When you have an environment, really great things can happen for young people," he says. "And we see that all the time at the Ruth Ellis Center. People tell us, 'We can't believe the impact that your young people have.' They literally wrote the anti-bullying policy for the Detroit Public School System. And we get questions: 'How are homeless youth able to write this policy?' And our answer is: 'Because they're the ones directly affected by it."'
O'Malley, the Broadway Impact co-founder, is strident in his activism — but sees a distinction between work for marriage equality or trans issues or LGBTQ homelessness and partisan political issues.
"There's a difference between knocking on doors for Barack Obama and getting arrested for the people of Sudan," referencing George Clooney, who participated in both a protest against Sudanese President Omar al-Bashir that led to Clooney's arrest and the Los Angeles premiere of 8, Dustin Lance Black's play about the Proposition 8 trial. "If you keep the candidates out of it, I don't think that people have a problem with it. Obviously, I have my own political views, in terms of candidates that I would support, but I think there's a way to separate that. And I think it's important to separate it because it is — it should be — a bipartisan issue because this is civil rights."