HOW DOES IT END?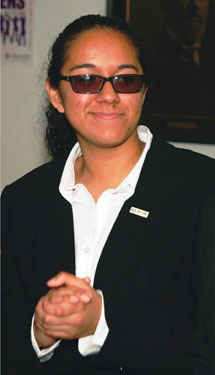 Marisol Cervantes
In finding those frames, making those adjustments and reaching those goals, the question at some point turns to a look past the struggle. Gene Robinson, hopeful about the future, asks a question that came up a few times in discussions about the LGBT movement: "Will we still be a tribe after equality?"
He answers his own question: "I would like to think yes, but I think that's still to be determined. I think it will matter about how we see ourselves. The greatest gift that comes from being gay, for me, is that it gives me the tiniest window into what it's like to be black or in a wheelchair or to be a woman and so on. Because, other than that one trait about me, I fall into the oppressor status on all of the other 'isms.' So, how will it effect the gay community if we're no longer discriminated against?"
Rivera echoes Robinson, talking about her conversion to Judaism as an adult.
"Being a Jew is being in a community. There are people who are just like you, who have certain holidays and things the same. One could argue that Judaism without community is not Judaism. Well, the gay and lesbian community has a distinction, and we have part of it because we are, quote, oppressed," she says. "Will it be that when we're, quote, no longer legally oppressed, that we really have no community? I think that would be sad — and I think the country would be less because of it."
Robinson goes further down that path: "I would like to see a world in which people of color understood their connection to women and women understood their connection to LGBT people, and so on. If we can see our own liberation connected to the liberation of everyone," he says of LGBT people, "then we will have really done something."
Cervantes has both optimism and hope at 17 and deep in the heart of what politicians like to call "real" America.
"I think Idaho has found a resource, and that resource is the coming generation," she says with a smile on her face. "Take 10 years, we'll have activists all over the place. It's a force to be reckoned with. … [R]egardless of who wants it or not, change is going to happen. It's going to be huge."
Planas, the Log Cabin co-chair, sees her circumstances as remarkably similar: "I know I'm going against the grain, and I know that it's difficult what we're doing. I'm no fool. But to see the look in people's eyes when they're relieved that they're not the only ones who really don't want to be Democrats because they're gay – that is a big deal for me. Awareness is educating."
Critics from the left see progress, too.
"We've come a long way in 10 years," Lal says, pointing to her own experience. "Visibility … has led to this idea that the time has come. And that's really helping the legal victories along. If you read, 20 years ago, Bowers v. Hardwick [the 1986 Supreme Court case upholding sodomy laws as constitutional], you're like, 'Really? Are you really trying to say that?' And, today, it's not acceptable."
For Spade, even as he criticizes groups like HRC and other mainstream LGBT organizations as focused on "a white-centered, upper-middle-class-centered gay and lesbian rights politics," he says, "[S]ometimes we can find ways to collaborate. … [A] lot of us are consistently trying to collaborate with people there and have deeper relationships with people inside those organizations and respect them as fellow travelers.
"It's not about setting up enemy camps. It's just about really trying to discern and evaluate what works and what doesn't work, and, whenever we can, trying to mobilize the larger gay and lesbian rights organizations to stand up and speak out about things like CeCe [McDonald]'s trial [in which the trans woman was accused of murder after defending herself with a pair of scissors, leading to the death of her presumed attacker] or to use their muscle if they're willing to, which is uneven, on various issues.
"At the same time, having a realistic recognition that the way they're structured, and who they're accountable to in terms of wealthy, white donors and foundations, it's unlikely that they're going to have an about face."
Solmonese defends the formal, legal equality that he sees coming in the near future as being important and based upon a public education that he sees as having been made in recent decades.
"When we do get about changing the laws in a way that brings us full equality — whether that is in terms of our protection and being free from discrimination or whether that is our families under the guise of marriage equality — when those changes come about, I think we will be a long way towards being finished … because we've laid such an incredibly strong foundation that manifests itself in the public opinion of the American people."
"Over a five-year period," Solmonese says, there will be a series of successes on the legislative and judicial front to ensure marriage equality and employment and housing nondiscrimination. "I think we're close to that window where all of a sudden things fall into place. And I think we're a lot closer to finished at the end of that period than most of the other movements for social change in this country have been."
O'Malley looks at the future and imagines what that end would look like.
"I see it as being a quiet thing. There's a Kander and Ebb song called 'A Quiet Thing,' saying that love is quiet," he says. "It's not the big, crazy fireworks; it's a quiet thing when you're really in love with somebody."
"It's not going to be the parades," he says of reaching a point where LGBT people are treated equally. "There will be a day of that, but real equality is just going to be when we're able to take down the signs and just be who we are and it's not going to be an issue."
Rivera returns to the importance, in her mind, of community: "I'm not sure that we'll ever be totally — even in spite of what the law may say — totally, in many people's minds, equal. And I have mixed feelings about that. Maybe it would be good to keep some sense of community."
Huff sums up the path forward by reference to an African word: Sankofa. "The image of 'Sankofa' is of a bird flying forward but looking backward," she says. "The idea of 'Sankofa' is that we look back with humility and honesty so that we can go forward with integrity.
"There's something really wonderful about looking back for the sheer intellectual, honest rediscovery of our past so that we can move forward with integrity."
Moving forward, as these voices show, is more complex in many people's minds than the legal and legislative equality that often attracts newspaper headlines and makes the nightly news.
From making lives safer for young people to increasing the acceptance of LGBT people across the political spectrum, there is much that remains in changing attitudes and actions of non-LGBT people. At the same time, efforts to educate gays and lesbians about transgender issues and to address racial and religious issues within the LGBT community show that internal work remains as well.
It could be that the right questions aren't even being asked – let alone answered – in order to ensure that those most vulnerable people in the LGBT community will be helped by changes being advanced.
Or, it could be that equality is almost here.
[CORRECTION: The reference to Jet magazine originally referenced the incorrect issue.]