Iimay Ho remembers one of the first times direct activism paid off for her.
While a junior in high school, one of her classmates drew a Chinese man during a discussion of Confucianism. "Basically, straw hat, fortune cookie," she recalls. "Any kind of offensive Orientalist things you could think of were on that poster."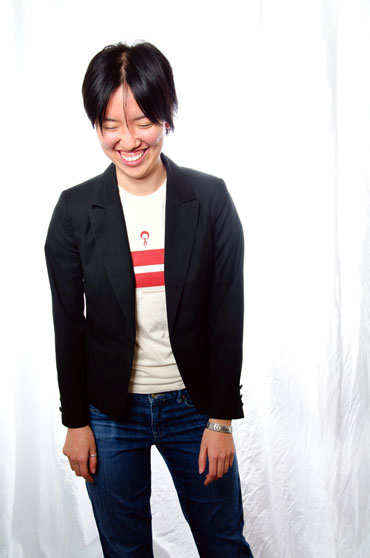 Iimay Ho
(Photo by Julian P. Vankim)
"I actually spoke out against it," Ho says. Her teacher supported her and had her talk to the offending artist and the entire class. "I even got to write an angry spoken-word poem about it," Ho chuckles. "That was probably one of the first times I felt like I said something that had mattered."
Later, Ho would unsuccessfully try to start a gay-straight alliance in her North Carolina high school. The only hitch? Her gay friends weren't as eager for the alliance as she was – and Ho wasn't out yet. "In high school I was straight," she laughs, "I was just a really great ally."
Ultimately, it wasn't until Ho graduated from college and moved to the D.C. area that she was fully able to connect the dots between her college-nurtured queer identity and her Chinese-American heritage. The week after she moved to the area, for a job with the Organization of Chinese Americans, Ho went to a picnic put on by the Asian/Pacific Islander Queer Sisters (APICS) and Asian Queers United for Action (AQUA).
"I just remember feeling really welcome and awestruck realizing I'm not the only one – I'm not the only queer Asian American," she says. From that moment, roughly four years ago, the 26-year-old Ho says, "It's just been really important for me to work with other people like me to increase our visibility and advocate for issues that affect our lives." Since then, Ho has served as the volunteer LBT issues chair of the DC Chapter of the National Asian Pacific American Women's Forum and helped organize the annual queer Asian event Pride & Heritage. She also recently co-founded the Rainbow Dragon Fund, billed as the nation's first "queer Asian/Pacific Islander American giving circle."
In recognition of Ho's dedication to and leadership of her community, she's one of this year's Metro Weekly Next Generation Award recipients.
"It's a huge honor to know that I have this kind of community support," she says. "To be honored in this way it feels like a queer Asian family is looking out for me. They've been such a central part of my D.C. home. Growing up in North Carolina, I didn't really have a strong Asian American community, much less a strong queer Asian American community."
In fact, cultivating community support has been something of a long road for Ho. "Some of my earliest childhood memories were actually being teased for being Asian," she says. "People would pull their eyes up into slants, or call me names. I felt pretty early on that people didn't think I belonged or that I was foreign."
Ho is decidedly not foreign. While her parents immigrated to the U.S. from Taiwan – where Ho's grandparents, in turn, had fled to escape China's civil war – Ho was born Sherry Iimay Ho in Cary, N.C. But unlike her brothers Ben and Michael, Ho's parents never called their middle child by her given English name, preferring Iimay, pronounced "ee-may" and meaning "beautiful" in Mandarin. The friendly, good-natured Ho shrugs off the ribbing she got specifically because of her name. "You know, that's inevitable," she says.