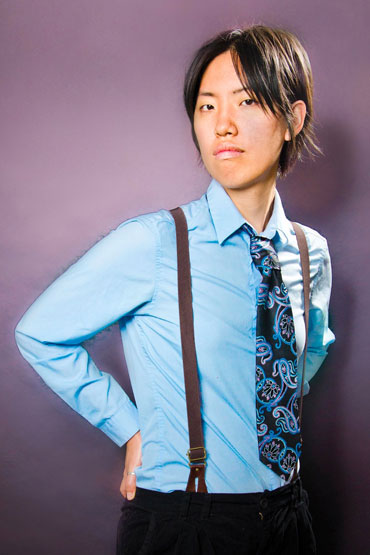 Iimay Ho
(Photo by Julian P. Vankim)
Part of Ho's dedication to her community stems from seeing her parents make their own way – her mother as an insurance agent specifically serving Chinese-speaking immigrants, her father as an executive at an engineering company. Because of their success, Ho enjoyed an upper-middle-class upbringing and a good education. "Definitely having class privileges sort of mitigated my experiences of racism," says Ho, likely informed by the sociology degree she earned from the University of North Carolina at Chapel Hill. "[But] it was a really formative experience just feeling like I always had to prove something, or prove I belong, or that I'm really a Southerner."
Looking at another juncture of social interactions, Ho had it relatively easy coming out to her parents.
"My mom actually knew other Chinese lesbians and Chinese gay folk, so she didn't feel like she was the only one struggling," she explains. Ho laughs when relating her mother's main concern after she came out: "Are you going to start dressing like a man now?" Ho came out to her father later, and his concern was more about how being gay might negatively impact her life. "That's something I've tried to stress to my parents," she says, "how much being queer, being a lesbian, has actually enriched my life, or really allowed me to be all that I can and to have this really strong community."
Ho's parents are accepting of her partner, whom they first met when she was one of Ho's housemates her senior year of college. Four years later, the couple lives together in a condo in Arlington. And Ho's mother has become something of a gay rights activist – specifically organizing against Amendment 1 in North Carolina, the extreme ballot measure that would legally restrict any domestic arrangement between two people, even civil unions, to only one man and one woman. Ho says her "mom is trying to get a yard sign" against Amendment 1, which is up for vote May 8.
By day, Ho is the operations manager of The Management Center, which provides management consulting to progressive nonprofits. Ho intends to continue working for the general progressive cause, and she sees the Next Generation Award as a helpful push for bigger and better things in her volunteer work.
"I sort of feel the weight of responsibility of what the award means," she says. "I think it makes me more of a representative for the queer Asian American community.
"It's a charge to keep doing good work."