The house of Franklin E. Kameny, a leader in the gay civil rights movement who died in 2011 at age 86, has been sold, according to the attorney handling the estate.
Glen H. Ackerman, managing partner of Ackerman Brown PLLC, told Metro Weekly in an email that Kameny's house at 5020 Cathedral Avenue NW, in the District's Palisades neighborhood, had been sold to a private buyer for $725,000 on May 22.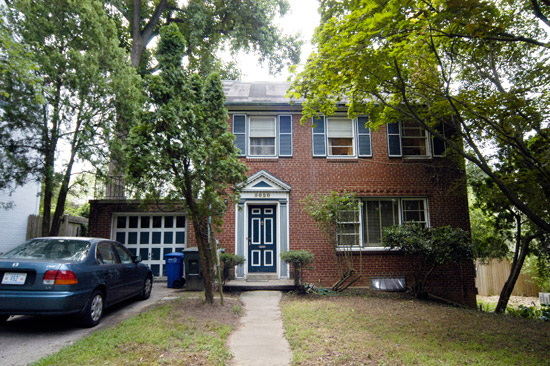 Frank Kameny House
Photo by Patsy Lynch
The sale, which was not listed publicly, has not yet been entered into the District's Recorder of Deeds electronic database, where such transactions are logged. According to older records, Kameny purchased the house and took out a mortgage in 1984. Ten years later, records show Kameny paid off that mortgage.
Kameny later borrowed $16,000 in 2005 and, from 2007 to 2009, had five judgment liens, ranging from $1,654 to $14,877, plus interest, accrued interest, attorney's fees and court costs, placed against his house by three separate creditors. According to Ackerman, the debts owed to those creditors were paid at closing, and the overall amount taken from the proceeds of the sale was "not significant."
On Nov. 2, 2011, less than a month after Kameny's death, Oct. 11, Kameny's estate was added to the National Parks Service's Register of Historic Places, making it the only LGBT historic site listed in the register, which contains about 80,000 other sites. In February 2009, Kameny's house was listed as a D.C. historic landmark. Due to the historic status, any renovations to the home may require city approval.
In his will, Kameny left Timothy Clark, his longtime housemate, his house and car, naming him the estate's personal representative. Kameny also bequeathed personal papers to the Library of Congress.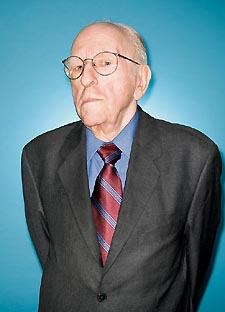 Frank Kameny
Photo by Todd Franson
On behalf of Clark, as personal representative of the estate, Ackerman's firm filed lawsuits against Marvin Carter, Charles Francis, Richard J. Rosendall and Bob Witeck, asking them to return personal papers that Clark claimed belonged to the estate and were "wrongfully taken" by the four defendants. One of the lawsuits, against Charles Francis, asked for the return of other items, including an Army uniform, a statue, several "Gay is Good" pins, personal and historical photographs and a certificate, awarded posthumously to Kameny, from the American Astronomical Society.
The lawsuit against Francis was dismissed March 29; the one against Witeck was dismissed on April 4; and the remaining two, against Rosendall and Carter, were dismissed May 15. At the time, Ackerman added some items remained unaccounted for, including a collection of buttons, handmade picket signs and various posters. As of May 29, Ackerman is still looking for those items.
"We don't know what was taken from the home," Ackerman said. "We've had to rely on people telling the truth."
Rosendall, meanwhile, told Metro Weekly that Kameny's papers and picket signs had been appraised at $75,000 back in 2006, and that Francis had raised the funds to purchase the collection, with Kameny receiving the appraised value of the collection, plus additional money from other items that were sold on his behalf. The collection of papers was turned over to the Library of Congress as part of the Kameny Papers Project on Oct. 6, 2006.
Rosendall said that the Smithsonian had gone through the picket signs in Kameny's collection and picked out the ones they wanted for their exhibit. Afterward, Francis gave one of the leftover picket signs, reading, "Private Sexual Conduct is Irrelevant to Federal Employment" to Rosendall, with Kameny's approval, as a thank-you gesture for his assistance on helping with the Kameny Papers Project.
Rosendall characterized any notion that Carter, Francis, Rosendall or Witeck entered Kameny's home after his death and removed items without authorization as "utterly groundless."
"I don't have as much as a paper clip that was in Frank's house when he died," he said.
"We did remove items from the house – we were there to rescue Frank's remaining papers for the Library of Congress, being concerned that the house might be condemned and the remaining papers lost," Rosendall added, explaining that he, Francis and Witeck were allowed into Kameny's home after his death with the authorization of its occupants, and, initially, accompanied by attorney Michele Zavos, who represented the estate at the time. "This was not done secretively. It was all above board and authorized at the time. The items removed were stored in a secure facility pending resolution in probate. As I indicated in my affidavit, I borrowed a few items to examine, and returned them to Mr. Francis who put them with the other items, which he turned over to Ackerman Brown PLLC on March 28 as part of his settlement agreement with them."
According to Rosendall, every action taken by the four following Kameny's death, including plans for his cremation and interment, was done with the knowledge of Clark and his cousin, Jessica Barnes, who both lived in Kameny's house, and with the written approval of Kameny's sister, Edna Kameny Lavey.
Rosendall said the estate seemed to be working off the assumption that anything once belonging to Kameny, even if it had been sold or given away, was part of the estate, adding he'd not been advised of any concerns by Clark or his lawyer until the four lawsuits were filed.
A related dispute not yet resolved regards ownership of a plot at D.C.'s Congressional Cemetery, where Kameny's ashes were to be interred.
According to Patrick Crowley, cemetery director, the plot, a marker and headstone were all purchased or requested by Helping Our Brothers and Sisters (HOBS), a local nonprofit dedicated to helping marginalized members of the LGBT community. HOBS also provided some assistance to Kameny before his death. Ackerman told Metro Weekly that the estate had asked HOBS and Carter, its co-founder and president, to transfer the title of the plot to the estate, but that Carter refused.
Ackerman said Carter has not responded to the estate, saying, "We can't imagine what he's hiding from."
Carter told Metro Weekly May 29 that he had received no communication from Clark's lawyers. Carter, who is in Las Vegas until August, said he was never served with papers and had heard of the lawsuits only through conversations with Witeck and Rosendall.
"I don't have any communication from them in that regard," Carter said. "Glen Ackerman has not approached me."
As to Ackerman's request to transfer the title of the plot over to the estate, Carter said he would be willing to do so if the estate asked him.
"Glen Ackerman knows my number," he told Metro Weekly. "You just called my [listed] number. It goes directly to me."
[Editor's note: Richard J. Rosendall contributes a bi-weekly, freelance opinion column to Metro Weekly.]
[Update: A clarifying quote from Rosendall was added to this story after its initial posting.]