The specter of AIDS haunts Steven Dietz's Lonely Planet – and yet the disease is never mentioned by name. But it is AIDS causing the play's lead character Jody to get so wrapped up in his safe world of maps, he has mostly shut out the vastly more complicated real world. What good are maps if not used as guides to a better land, or a better life?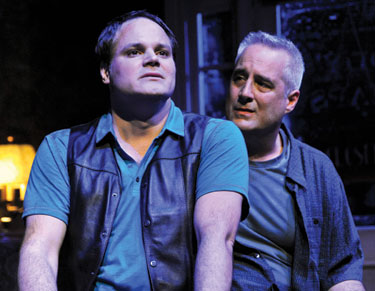 Loneley Planet
(Photo by Christopher Banks)
That's the central symbolic question of Dietz's richly evocative play, which dates to 1994. Alexandria's MetroStage now offers a charming, understated production of Lonely Planet directed by Woolly Mammoth's John Vreeke and starring Michael Russotto as Jody and Eric Sutton as Carl.
Yes, the poignantly named Lonely Planet is a two-act play with only two actors onstage – though both actors are superb. Oh, wait, it's two actors and empty chairs. Lots and lots of chairs, and more and more as the play goes on. With every visit to see the introverted Jody at Jody's Maps store – Jane Fink's set is as quaint and Old World as the "map store" locale sounds today – Carl brings a couple more chairs. This is much to Jody's dismay, especially since the chairs were all previously owned by mutual friends stricken by AIDS. (The play is set in 1988.) By show's end, there are empty chairs everywhere, and a large stack in the back. But Jody is still alive in his world of maps – which eventually, symbolically, includes an HIV test. (For what is an HIV diagnosis if not a map to help guide one's medical future?) Subtly but surely, Jody has also come to appreciate his friendships, most notably his bond with Carl.
LONELY PLANET




To June 17
MetroStage
1201 North Royal St.
Alexandria
$45 to $50
800-494-8497
metrostage.org
Because of a script rich in symbolism (and cartography) and light on specifics, and relatively quiet in its dramatic tensions, it can take a while for a viewer to get his bearings watching Lonely Planet. From the get-go the two gay characters carry on as two best friends, arguing over tedious details of everyday life. But eventually, and certainly by the second act, the play and its message come into focus.
MetroStage is to be commended for staging a play that's obviously a bit of a challenge both to describe and to find a target audience. Here's to gay people, as well as those directly affected by AIDS (or even cancer), finding this on the map before it closes the weekend after Capital Pride.
CONSTELLATION THEATRE COMPANY has done it again, staging another epic tale with a strong acting ensemble, a beautiful set, bold costumes, and dazzling live musical accompaniment by Tom Teasley.
And yet, Metamorphoses takes its time in offering anything close to a transporting experience. Much of the time, I couldn't help thinking about how mythological tales such as this collection by the Roman poet Ovid are often told to, and most relished by, children.
There were no children in the audience at Source during a recent performance. But something in the way many of the stories were presented, and particularly in the way some of the actors exaggerated their expressions or dwelt on humorous moments, made me think this show, too, was partly designed with kids in mind – or at least adults with short attention spans or limited experience with the theater. Splashes of water into the audience, skimpy costumes and pimped up acting are all tricks used here to varying degrees.
That said, no adult – or theater queen – will leave Source totally underwhelmed by this production of Mary Zimmerman's Tony-winning adaptation of Metamorphoses. Constellation spent a fortune to create this spectacle, centered on a real-life, 4,000-gallon pool built right on top of Source's concrete stage floor and designed by Constellation's set and lighting wizard A.J. Guban. The ensemble's 10 actors swim and sink, frolic and fight in the gorgeous pool, which most often stands in for the sea and includes an underwater exit for drowned characters. Many in the cast look as great as they act – scruffy Michael Kevin Darnall and Katie Atkinson as lovers Alcyone and Ceyz, say, or the angelic, model-bodied Jefferson Farber as Hermes.
METAMORPHOSES



To June 3
Constellation Theatre Co.
Source
1835 14th St. NW
$20 to $35
constellationtheatre.org
Still, you will wish for more entertainment along the lines of the story of a famished Erysichthon. Here, Hunger, giddily played by Lisa Lias, takes a rodent-like form and attaches itself to the back of Erysichthon, played by the bearish Matthew Pauli, until he grows so weak and hungry he cuts off his own foot. Or really, the show would get a boost from more stories featuring the great Misty Demory, who steals every scene she's in, whether as the academic-minded therapist who hilariously mocks the gripes of Farber's petulant Phaeton, or as the goddess of love and beauty Aphrodite.
Constellation's Metamorphoses, like the world at large, could use more Aphrodite.