There's a new R&B-flavored electronic rock band on the scene, and there's a reason listening to Electric Guest's debut album will remind you of contemporary acts as disparate as Beck and Gorillaz, or Gnarls Barkley and Broken Bells.
The reason, of course, is Danger Mouse, aka Brian Burton, who produced Electric Guest's impressive Mondo just as he has with the above-mentioned acts. Burton was actually in Gnarls Barkley with Cee Lo Green, and Broken Bells is his current band with the Shins' singer James Mercer.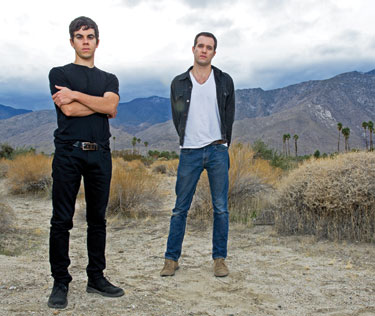 Electric Guest
(Photo by Noah Abrams)
The Grammy-winning Danger Mouse obviously has a distinctive sound. Which isn't to say the Los Angeles quartet Electric Guest doesn't offer anything new. In fact, Mondo may be Danger Mouse's strongest musical statement yet. (Apparently U2 is next on his plate – and Bono and company could certainly stand for a good freshening up.)
The world of vocalist Asa Taccone and drummer Matthew Compton – captured on Mondo before bassist Todd Dahloff and his brother keyboardist Tory Dahloff joined the group – is rich in pop melodies and harmonies and retro grooves from the '70s and '80s, most significantly. Depending on the song, you hear traces of everything from the psychedelic rock of Electric Light Orchestra to the light soul of Hall and Oates – or Maroon 5. To my ears, Electric Guest is also strikingly similar to the new retro-reviving British soul/pop band Graffiti6 and its stellar set Colours, released earlier this year.
As a package Mondo isn't tied to any one era, and you also hear the clear influence of ambient electronica in the manner of the French duo Air – and not just because Taccone's tenor voice, which occasionally floats into falsetto, often recalls Air's Nicolas Godin. It's little wonder Mondo debuted well on the French pop chart.
In fact, Mondo kicks off with the thoroughly Air-esque electro-funk song "Holes," complete with vocals that become increasingly distorted and distant right before the song abruptly ends.
The rather blandly named band is anything but bland throughout Mondo, which traffics in somewhat oblique lyrics expressing worry and confusion about unspecific problems, or the ways of the world.
"They call me a little wound up," Taccone sings as he launches into the tense, jerky first single "This Head I Hold." "See, I'm upset because I've always been stuck. But I don't know what it is I'm without. Guess I'm in love with always feeling down." He proceeds to get higher – literally, with his voice, as well as figuratively – only to realize it's actually taking him lower, making him weak and depressed. "This head that I hold, oh, it's so tired."
"Almost fed-up, this thing's bound to break," a Pink Floyd-like chorus sings on "American Daydream," which appears to be a sly critique of contemporary America. The song discusses an obsession with the future – "I know that I've forgotten my history; it's easy," Taccone sings in a distorted voice – as well as a hurried, materialistic life. "We keep going, don't stop running," the chorus chants. "They keep selling, we don't want it."
The pinnacle of Mondo comes just before that slow-burn rocker, with the nine-minute indie-rock epic "Troubleman." "She's got it bad for me," Taccone sings throughout the song, which repeatedly shifts tempo and style and veers from electronic pop to guitar rock, and from a melancholic sentiment to a slightly sunny disposition. Taccone apparently eventually makes peace with what's troubling him. "Try to fix it for you, break it, then it's gone," he sings. "Oh, no. You go home, we go home." And then the song, led by an electric guitar riff, rides off into the sunset.
ELECTRIC GUEST
Mondo
Downtown
$9.99




Searching for home, or a place to go – or just, something – is a recurring motif for Electric Guest on Mondo. "So alone, guess I gotta find a home," Taconne sings on the swaggering rock of "Under The Gun." "What I'm trying to find, I don't even know," Taccone sings. "Maybe I'll hit the road."
Take a ride with Electric Guest. You may be surprised where they take you, but you certainly won't be disappointed.
Download These: "Troubleman," "This Head I Hold," "Waves"