The precursor to today's fight for marriage equality was, of course, the fight for interracial marriage. And that didn't reach its biggest milestone, the Supreme Court case Loving v. Virginia, until 1967. But Rodgers and Hammerstein wrote the musical South Pacific, focused on interracial relationships, in 1949.
"You can only imagine the amount of courage they had in 1949, and all of the obstacles that they faced to put this story in the show," says baritone Marcelo Guzzo. "That's why today we can reflect on it in such a wonderful way. It will never be outdated."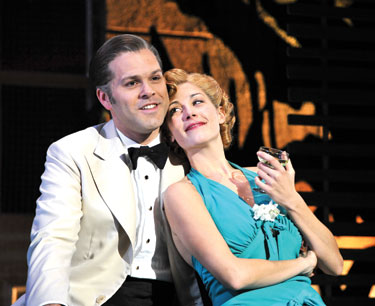 South Pacific
Guzzo plays the musical's lead in the touring production now at Wolf Trap. "[French plantation owner] Emile de Becque, he's one of the type of guys you want to be one day," marvels Guzzo. "He stands for what he believes."
Born to Italian parents in Uruguay, Guzzo studied voice and opera in France, Italy and South Carolina before launching his singing career in New York about a decade ago. South Pacific is the established opera singer's first musical. Guzzo wanted to challenge himself by branching out to musical theater. Though his schedule is booked with international opera gigs for the remainder of the year, he says he hopes to do more musical theater. The experience has been enlightening.
"In opera, you sing, people clap, and that's it," he says. "Usually the exchange is powerful, but it's not so evident like in musical theater…. You can feel the audience during the show, connecting and sharing [with the story]. It's absolutely magnificent." — Doug Rule
South Pacific runs Thursday, May 31, to Sunday, June 3, at 'Wolf Trap, 1645 Trap Road, Vienna. Tickets are $20 to $80. Call 703-255-1900 or visit wolftrap.org.