This summer, Steven Reineke will perform with Idina Menzel at Wolf Trap, supporting the Broadway and TV star with the National Symphony Orchestra Pops. But this weekend, Reineke will lead a show of a different sort, wearing a black velvet sport jacket as he conducts the Pops.
A black velvet sport jacket?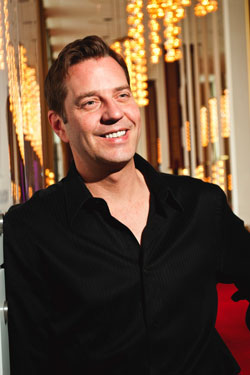 Steve Reineke
"Hickey Freeman kind of made me their Sinister poster child," says Reineke, referring to Freeman's new Sinister line of clothing. "I want to fit in gracefully and appropriately."
It's graceful and appropriate for this occasion because the Pops is performing with the seven-piece swing revival band Big Bad Voodoo Daddy. In fact, Reineke encourages the audience to dress the part as well, donning pinstriped suits, wingtip shoes and other garb from the 1940s swing era.
The Pops will perform special orchestral arrangements of tunes from the Southern California band's repertoire, including those featured in the 1996 hit film Swingers: "You & Me & The Bottle Makes 3 Tonight (Baby)," "Go Daddy-O" and "I Wan'na Be Like You," originally from The Jungle Book.
Voodoo Daddy has previously performed with orchestras including the Los Angeles Philharmonic and Atlanta Symphony. But this is the band's debut with the NSO as well as with the gay Reineke, who is also the music director of the New York Pops and regularly conducts other orchestras, including the 41-year-old's hometown Cincinnati Pops Orchestra.
"It's fun for me to bring the first inaugural season to a close and to do it with a big party," says Reineke, who notably started this first season as the NSO Principal Pops Conductor with a celebration of Rodgers and Hammerstein's show-tune staples. "[This season] exceeded my wildest expectations, and I can't wait to get started next season at the Kennedy Center again."
The NSO Pops performs Thursday, May 10, at 7 p.m., and Friday, May 11, and Saturday, May 12, at 8 p.m., at the Kennedy Center Concert Hall. Tickets are $20 to $85. Call 202-467-4600 or visit kennedy-center.org.