Describing Terra Tempest Moore, Sexual Minority Youth Assistance League Executive Director Andrew Barnett wrote, "She is a natural leader, talented public speaker, and fierce advocate for those without a voice."
It's apt description, as Moore's voice is both authoritative – earned through her experience – and open to others, encouraging input with that rare talent of successful leaders.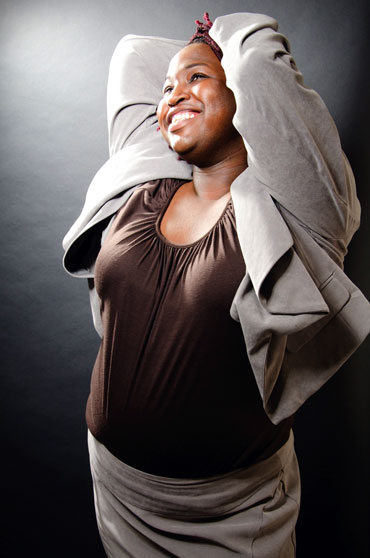 Terra Tempest Moore
(Photo by Julian P. Vankim)
Moore, who turns 25 on May 11, has been a part of the SMYAL family since she first came to the group almost a decade ago. Having come out as a transgender woman in 2005, she's done more advocacy work than many others would do in a lifetime.
Having worked on HIV/AIDS issues as a peer educator with the STIGMA (Spreading Truth Is Gaining Mass Appeal) program at Metro TeenAIDS, on safer-sex issues involving young gay and bisexual men of color with Different Avenues, on trans issues with the DC Trans Coalition, and her ongoing work with SMYAL, Moore is everywhere.
At the same time, she connects her work, primarily, to her family. Then, to others still coming out.
"I have a younger brother who just came out of the closet not too, too long ago as bisexual. And I remember when I first decided that my life wasn't what everyone had deemed it, and the struggle and the turmoil and hurdles – and b.s., to be frank – and I made a promise to myself that he wouldn't have to go through it the way that I did," she says.
"So, everything that I've done up to this point has been really so that my younger brother doesn't have to deal with what I dealt with. And in prayer that any young trans woman that comes up doesn't have to deal with it. Or young trans man – I feel like they get left out a lot, too."
When Moore talks about those struggles – teasing and abuse at school and home – she quickly moves to a more broad statement of what she, and others, have faced: "The everyday fear of wanting to go somewhere to hang out with friends and not feeling that that space would be safe because of the ignorance of someone else."
Working to eliminate that "everyday fear" and make spaces safe is Moore's work.
"Trying to create that space, I feel like my part was small," she says. "Sometimes I feel like I didn't actually do much. I was present, and everyone has always said that presence is what is needed first. If there is no presence, then nothing is ever started."
If presence is the starting point, then where is she headed?
"To see the day where things have changed to the point where you don't hear about gay bashings on the news every other day, you don't hear about a trans woman being shot every other day, there's not a candle vigil every other day because someone was ignorant or violent."
"And it's not just the GLBTQ community," she says, referencing Trayvon Martin and other violent outcomes that Moore sees as based in ignorance.