"Our friends were just vanishing!" says playwright Steven Dietz of the 1980s. "It was hard to not write a play about AIDS." But unlike Larry Kramer's The Normal Heart or Tony Kushner's Angels In America, Dietz's Lonely Planet "is more oblique, more indirect." So oblique, in fact, there's no direct mention of AIDS in the script.
"There can be words in our conversation with an audience that just simply make an audience stop listening," explains Dietz, a professor at the University of Texas at Austin. "And whether those words are 'AIDS' or 'abortion' or 'death penalty' or 'tea party' – whatever it is, a word that an audience has fashioned a definitive opinion about is seldom going to listen."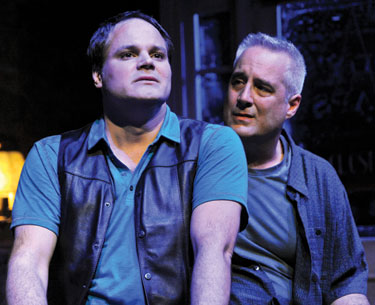 Loneley Planet
(Photo by Christopher Banks)
Lonely Planet has had lingering significance because people have listened – and more so in far-flung places than on Broadway or big theaters.
"Regional theater has embraced this play and kept it alive," says Dietz. "I've seen this play done in very, very conservative communities, or big regional theaters with a very conservative theater base."
Right now, Alexandria's MetroStage offers a deeply evocative production of the two-character play "about a couple of guys, both with their eccentricities, neither of whom initially come off as stereotyped gay characters. [And] the play attempts to have [the unnamed disease of AIDS] sneak up on the audience in the same way that this disease sneaks up on us."
Another distinction between Dietz's play and those better-known AIDS plays: Dietz is straight. "If I were limited to writing about what I know, I'd have nothing but 40 plays about growing up in the suburbs of Denver," he says. In fact, Dietz wrote the play for two prominent actors in Seattle, Michael Winters and Laurence Ballard. "For a play that I wrote 20 years ago to have a [continued] life like this," he says, "is extremely gratifying."
Lonely Planet runs to June 17 at MetroStage, 1201 North Royal St., Alexandria. Tickets are $45 to $50. Call 800-494-8497 or visit metrostage.org.
[Read Doug Rule's review of Lonely Planet.]