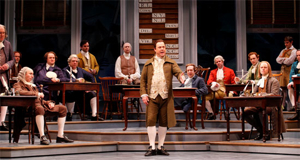 Springing to full-blooded life onstage at Ford's under the assured direction of Peter Flynn, the Founding Fathers of 1776 can be a horny, harried lot, yearning for their faraway wives as much as they yearn for liberation from a faraway tyrant. By the time the president of Congress, John Hancock, and his cohorts have agreed on a statement they can put their, um, John Hancocks on, the document feels as though it's ready to burst into a song of freedom as lively as any of the ditties Sherman Edwards penned for the 1969 show. Of course, Edwards and librettist Peter Stone breathe new life not just into the Declaration of Independence but into the lives of the men who shaped it. To May 19. Ford's Theatre, 511 10th St. NW. Tickets are $15 to $60. Call 800-982-2787 or visit fordstheatre.org.
Read Jonthan Padget's full four-star review here.
Get Spotlight in your inbox. Join our mailing list.