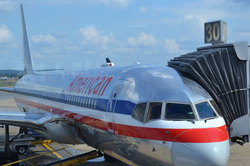 American heroes, Hollywood stars and hundreds of anxious passengers joined together yesterday to celebrate American Airlines' inaugural nonstop service between Washington National Airport (DCA) and Los Angeles International Airport (LAX).
"We are thrilled to begin nonstop service between Los Angeles and the nation's capital," said Will Ris, senior vice president of government and regulatory affairs for American Airlines. "National's proximity to federal government offices, national monuments, and popular tourist attractions will make American's new flight highly convenient for West Coast customers when flying for business or pleasure. Conversely, D.C. area residents now have more travel options from National and Dulles airports to use when traveling to [Los Angeles]."
The new DCA-LAX route became available following the enactment of the FAA Modernization and Reform Act of 2012, which authorized the U.S. Department of Transportation to award a limited number of new flights to U.S. domestic airports located beyond DCA's previous 1,250-mile perimeter limit. Some of the additional nonstop flights include DCA to San Francisco International Airport (SFO) by Virgin America and United Airlines as well as DCA to Portland International Airport (PDX) by Alaska Airlines.
American Airlines new flight features Boeing 757 aircraft with 22 First Class and 166 Main Cabin seats. From Los Angeles to D.C.., the flight will depart daily at 8 p.m. Pacific time and arrive at 4 p.m. Eastern time; from D.C. to Los Angeles, the flight will depart daily at 5:10 p.m. Eastern time and arrive at 7:40 p.m. Pacific.
Flight time for the DCA-LAX nonstop service is approximately five hours and 30 minutes, which is substantially less than the seven to eight hours required for alternative connecting flights from DCA. The new flights are also a convenience for those travelers that do not want to drive the extra distance to Dulles International (IAD) of Baltimore Washington International (BWI) airports.
Brian Dientzen, who plays 'Jimmy Palmer' on CBS television show NCIS, and John Ratzenberger from the sitcom Cheers, traveled from Los Angeles to Washington, DC on the inaugural eastward flight. The actors were accompanied by a group of World War II veterans from the Los Angeles area.
When the veterans arrived at DCA they were greeted with thunderous applause by representatives from American Airlines and from the passengers waiting in the terminal for their flights.
The veterans traveled to Washington, D.C. as part of America Airlines' participation with the Honor Flight Network. While in the nation's capital, the veterans will tour the World War II Memorial that was built in recognition of their service.
American Airlines has a long history of supporting the U.S. armed forces and veterans. According to the airline, more than 60 percent of its pilots and 10 percent of all American and American Eagle Airlines employees serve as active or military or veterans.
In addition to its support of the nation's service members, American Airlines has been a leader in supporting the LGBT community. It is also the first and only airline to receive a perfect 100% rating on the Human Rights Campaign's Corporate Equality Index since it began in 2002.
More information on American Airlines' LGBT initiative is available at www.aa.com/rainbow.
Travel Note: Troy Petenbrink was a passenger on American Airlines inaugural nonstop flight from DCA to LAX and filed this story from Los Angeles.