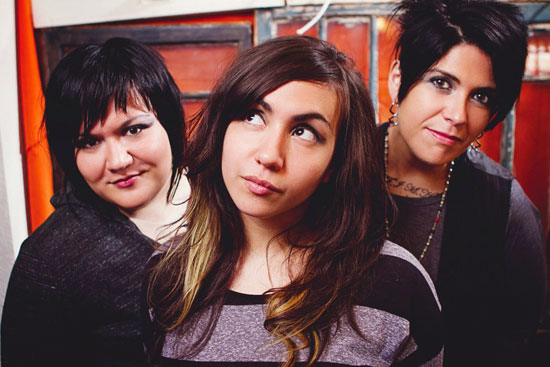 Girlina Coma
(Photo by JoshHuskin)
"It was very surreal at times, being in France or in Scotland, and opening for one of our icons," says Nina Diaz of Girl in a Coma. A few years back, the rock trio from San Antonio, Texas, toured with British singer Morrissey, from whom the band derives its name. ("Girlfriend In a Coma" is a 1987 single from Morrissey's former band, The Smiths.)
But before Morrissey, there was Joan Jett, who took in a New York concert by Girl in a Coma seven years ago. The band was being filmed for a cable TV show focused on struggling "Latina and Latino bands trying to make it," Diaz explains. "[Jett] was supposed to come out, give us some words of advice and 'good luck to you,' and then we do our thing." Instead, Jett and her Blackheart Records label co-founder Kenny Laguna liked the band so much they signed them.
The 24-year-old Nina Diaz is the youngest member of Girl in a Coma, founded by her oldest sister Phanie Diaz and Jenn Alva. Nina is also the band's only straight member – or maybe it's more accurate to say the only non-lesbian. "It depends on the night," she teases.
Nina Diaz was barely a teenager when she started performing with drummer Phanie and bassist Jenn, affectionately referring to both as "my sisters." Nina started playing guitar and writing songs when she was only 13, drawing much inspiration from alternative rock acts that Phanie introduced to her, including Morrissey, Nirvana and Bikini Kill.