Just one month after a special election in Ward 5 to replace former Councilmember Harry Thomas Jr., Council Chairman Kwame Brown (D), first elected in 2004, was charged with bank fraud in an incident where Brown overvalued his home by almost $500,000 more than its assessment value on a 2006 credit card application. He later pleaded guilty to a felony charge of bank fraud and to a separate misdemeanor charge of violating District campaign finance laws.
Following Brown's June 6 resignation, Lateefah Williams, president of the Gertrude Stein Democratic Club, the city's largest LGBT political organization, called Brown's resignation a "sad situation," both on a political and personal level. On the political level, she said, it undermines confidence in the D.C. government. On a personal level, it's disappointing because Brown was considered a strong supporter of the LGBT community.
But Robert Turner, president of the DC Log Cabin Republicans, released a statement blasting Brown's behavior and questioning council ethics.
"Barely six months into the year, and we have the second resignation from a member of the D.C. council," Turner said, in part.
"As long as this trend of political corruption continues with our elected officials, Congress will never allow us to have full voting representation or budget autonomy. If this keeps up, look for talks of another Control Board," Turner said, referring to a six-year period when Congress appointed a five-member body to oversee the District's finances and override decisions by the mayor and Council stemming from years of fiscal mismanagement in the 1990s.
U.S Rep. Jason Chaffetz (R-Utah), a member of the House Government Reform and Oversight Committee, which has jurisdiction over District matters – an opponent of marriage equality in the District – hit a similar note, telling The Washington Post, "City leaders keep arguing for more autonomy, but it's hard to get there when so many people keep getting indicted."
Chaffetz's remark got a strong response from James Jones, communications director for DC Vote, which seeks full voting representation for District residents.
"The suggestion that the District has to earn rights that every other jurisdiction has, that we haven't earned democracy, is absurd," says Jones.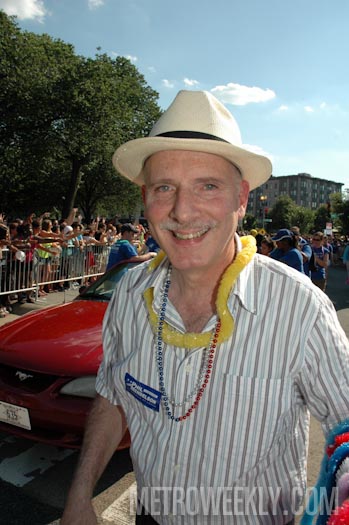 Brown's official resignation placed Chairman Pro Tempore Mary Cheh (D-Ward 3) as acting chairman until a special legislative session this morning for the council to select a new interim chairman from among the four at-large members. D.C. voters will elect a chairman in a Nov. 6 special election, the same day as the general election.
At the June 13 meeting, the council voted unanimously to name Councilmember Phil Mendelson (D-At Large) as interim chairman. Councilmember Vincent Orange (D-At-Large) had originally expressed interest in running for the position, but submitted a resolution to instead place his name in the chairman pro tempore slot in place of Mendelson's preferred pick, Councilmember Michael Brown (I-At-Large).
After more than 90 minutes of debate this morning, Orange's bid for chair pro tempore was shot down, 8-4, with Orange, Marion Barry (D-Ward 8), Jack Evans (D-Ward 2) and Tommy Wells (D-Ward 6), voting in favor of Orange. The original resolution, electing Mendelson chair and Brown chair pro tempore, later passed 11-1, with only Orange voting against.
Because the D.C. Board of Elections and Ethics (DCBOEE) has ruled that the special election for chairman and the general election are two separate contests, Orange, who is up for re-election this year, could run for both his regular seat and the chairmanship simultaneously. This sets the stage for a showdown between him and Mendelson, who has indicated he will run in the November special election.
Some in the LGBT community are already picking sides in advance of the fall election.
Williams says the Stein Club has an "excellent" relationship with Mendelson, who has twice been honored by the Stein Club, in 2009 and 2010, for work advancing LGBT equality.
Williams says she would welcome a Mendelson candidacy, but cautioned that Stein is far from endorsing anyone for the permanent chairman's position.
"We believe it will be a contested race," she says, raising the possibility that other councilmembers may enter the race. "We will go through our normal endorsement process. The vast majority of the council has received our endorsement in the past. Even those without our endorsement have some strains of support among our members."
Others are not so neutral. For Bob Summersgill, ANC 3F commissioner and a past president of the Gay and Lesbian Activists Alliance, Orange is a nonstarter.
"No way at all," he says of the prospect of an Orange chairmanship. "He's never been that great on our issues. On the other hand, Mendelson has been great for us."
Summersgill characterizes Orange's political performance as erratic, earning various ratings from the GLAA, ranging from -2.5 in his 2006 run for mayor, to 4.5 in 2010 when he ran for council chair, and 0.5 in his current re-election bid. By comparison, Summersgill points out, the GLAA has rated Mendelson with the top score of 10 over the years.
Summersgill also recalls statements Orange made in 2006 while running for mayor opposing marriage equality and suggesting his competitors who supported it were "morally unfit" to run the city.
"Vincent Orange has since apologized," adds Summersgill, "but Phil Mendelson has never had to apologize."
Jeri Hughes, a local transgender activist, isn't terribly disappointed about Brown's resignation.
"Kwame Brown talked a good game," she says. "In his Stein Club endorsement speech, he committed to hiring someone who was transgender for his staff, and he never followed up on it."
With Brown's resignation, Hughes says Mendelson would be the best person for the chairmanship, calling him "highly intelligent," "well-equipped" and "judicious."
"If Phil Mendelson says something, you can take it to the bank," she says. "He's honest, hardworking, and I have 100 percent faith in him."
On the other hand, while Hughes says she commends Orange with evolving on positions related to LGBT rights, including marriage equality, like Summersgill she remembers Orange's stance against marriage when it seemed politically advantageous.
"He's a politician," she says of Orange. "He comes to our events, but I've never seen him pushing legislation to benefit the full LGBT community."
But David Mariner, director of The DC Center, defends Orange, saying both he and Mendelson have been strong allies of the city's LGBT community center. He adds that both councilmembers, as well as 10 of their colleagues, wrote letters supporting The DC Center's application for a space in the Reeves Center. He also praises Orange for visiting The DC Center.
"I think that he is a strong ally," says Mariner. "He shows up at our events, and is familiar with the issues important to us. He's aware of what's going on."
Mariner's not forgetting Orange's history, but says it's time to move on.
"It's important to look at where City Council members are today, and not where they were six years ago, because people change, their positions change. I mean, six years ago, Obama wasn't in favor of marriage equality."