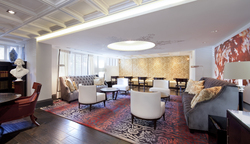 While premiering its new name, Capitol Hill Hotel, formerly known as Capitol Hill Suites, has also announced the completion of the first phase of a $3.7 million renovation.
"Our new name reflects the more upscale product now offered by the hotel. This is just the beginning of an exciting series of welcomed changes to the property," said Ian Harvey, general manager of Capitol Hill Hotel. "We are proud of our wonderful position in Washington's most special neighborhood — from distinctive restaurants and boutiques to national treasures, our planned renovations will create a new gem within this dynamic area."
Located in Washington, D.C.'s Capitol Hill historic neighborhood, the hotel is only two blocks away from the U.S. Capitol Building (closer to it than any other hotel) and one block away from Capitol South metro station.
To date, completed renovations by Dawson Design Associates include a revamped lobby as well as the expansion and addition of meeting and event spaces. The final renovation phase, which includes the makeover of the 152 all-suite guestrooms, is expected to be completed by early 2013.
The renovated lobby features "federalist chic" furniture juxtaposed with an eclectic collection of vibrant and modern accent pieces. Local artists were invited by Capitol Hill Hotel to participate in the transformation. Maggie O'Neill of O'Neill Studios pays homage to the beauty of springtime in the city, with a mural of blooming cherry blossoms in a hotel corridor. The hotel is also developing a local art program to continually bring current and local art into the hotel.
In celebration of the property's transformation and to welcome the summer, Capitol Hill Hotel will be offering the "Picnic on the Mall" package. Guests can book the "Picnic on the Mall" package from now until Labor Day, Monday, Sept. 3, and receive an outdoor blanket (to keep), a picnic basket packed for two, complimentary breakfast and free WiFi throughout their stay.
More information on Capitol Hill Hotel and its "Picnic on the Mall" package is available on the hotel's new website: www.capitolhillhotel-dc.com.
A member of the International Gay and Lesbian Travel Association, Capitol Hill Hotel is managed by HHM, which operates 89 hotels across the U.S.