Stepping Up
Just ahead of the 2004 Atlantic Stampede gay rodeo, Kevin Platte was reflecting on the 10-year anniversary of the DC Cowboys dance company. After all, it was at that rodeo in 1994 where Platte and his crew got their start, and where he was preparing to return to mark that decade milestone.
"We stepped onto the small auxiliary stage where they put people they're unsure of," Platte recalled with a bit of self-deprecating humor. Then again, in 1994, the DC Cowboys were a long way from proving themselves. When it came to performing in public, they were just about as green as can be. "No one fell down, no hats got knocked off. We were nervous, but I don't remember any major mistakes."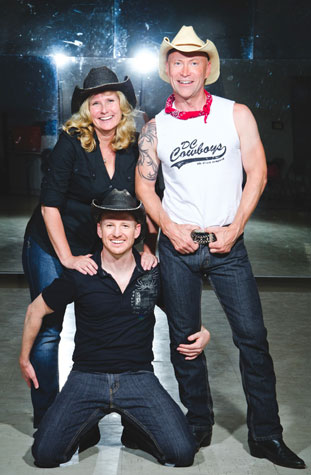 DC Cowboys
(Photo by Julian Vankim)
Today, Platte still remembers the reaction of the audiences to the troupe's two debut performances during that 1994 rodeo weekend. There was no mistaking that his notion of getting some of his Remingtons buddies together to put on a couple country-western-inspired, musical-theater dance numbers was a pretty good idea after all.
"It was so well received that we were just blown away," Platte remembers. "We couldn't believe it. We thought, 'Okay, what do we do now?' A few of us said, 'Why don't we continue?" and six said, 'Oh, no, we just wanted to do it that weekend.' That left us with six. We had to basically define who we were, what we stood for, where we needed to entertain, how we could actually convince people to let us perform at their location. From there, the organization slowly developed, created an identity and we found our niche."
That niche has been as an all-volunteer, sexy, friendly and talented troupe of dancers that for 18 years has created a blend of country-western and musical theater for dance performances, for fundraising calendars, and for presenting a fun and entertaining high-profile face of the gay community. After the rodeo, the next big step toward carving out that niche was performing at the Capital Pride Festival. It was 1995 and the festival was being celebrated at its current home along Pennsylvania Avenue for the first time. Thanks to that performance – as well as the enthusiasm of a magazine publisher – Washington truly got to know the troupe.
"That's when we convinced the Pride folks to include us on the main stage," Platte says. "And that's where Randy Shulman discovered us."
At roughly the same time, Shulman had launched Metro Weekly. Essentially, he and the Cowboys were charting new territory together.
"Randy Shulman discovered us, put us on the front cover," remembers Platte. "That helped propel us. There were many, many steps, but that was a big step within the community. It's all about validation, and he helped validate who we are. He was wonderful. He was like, 'Who are you guys?' Metro Weekly – MW back then – they discovered us."
In that the Capital Pride main stage plays such a prominent role in DC Cowboys lore – particularly in that the Atlantic States Gay Rodeo Association (ASGRA) held its last Atlantic Stampede rodeo in 2008, and hasn't announced any plans to bring it back – it's fitting that the Cowboys have chosen Capital Pride for the local farewell performance.