Stepping Out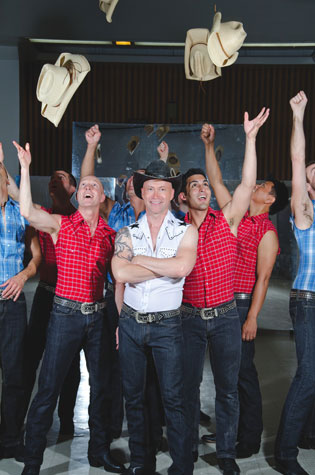 DC Cowboys
(Photo by Julian Vankim)
Over the years, Platte reckons, about 60 to 70 men have made up the ranks of the DC Cowboys. Some might stay a couple years, some a decade. It's generally been a good mix of veterans and newcomers.
Chad Townsend remembers when he was in that newcomer camp, joining the Cowboys on a sort of trial basis. He'd seen the Cowboys strut their stuff at Atlantic Stampede and he wanted in. With some musical-theater background and a taste for Remingtons, is it any wonder? With a friend, Townsend got up the nerve to audition in late 2001.
"I was definitely nervous," he says of throwing his hat into the ring. When the dust cleared, he was relieved to have made the cut – conditionally. Townsend admits to being a little chagrined that his friend was welcomed aboard without reservation, while he was allowed in on a trial basis. "I was the one with the musical-theater background!"
Townsend jokes that the conditional acceptance may have spurred him to work as hard as he could to impress the group in those first weeks, till he, too, became a full-fledged Cowboy. While his friend moved on after a couple years, Townsend stuck around and today volunteers as the Cowboys' communications director. He also admits to ribbing Platte every now and again for that conditional acceptance at the start.
It's not that Townsend was lucky to get in. He's shown himself to be a strong contributor to the troupe, both in performance and dedication – beyond communications, he's donated his skill as a graphic designer to the DC Cowboys calendars. But when he considers how the experience of being a Cowboy has enriched his life, Townsend may consider himself lucky in the larger scheme of things. "I keep saying to myself that I never thought I'd become a gay, traveling, dancing cowboy," he says, a bit of wonder in his voice. "Each year just seemed bigger and crazier. The [2006] Gay Games [closing ceremony] put us on the national scene. Being on Wrigley Field, having 20,000 people screaming for you is just amazing. I loved the entire America's Got Talent experience, every minute of it."
The Gay Games in Chicago and competing on the reality show America's Got Talent – through three rounds – in 2008 were just a couple of highlights. Barbara Kurzeja, the Cowboys volunteer stage manager, points to an RSVP gay cruise and Europe in her own catalog of special Cowboys experiences.
"I was one of only 16 girls on the cruise," she's quick to point out, though seemingly with a bit of pride rather than any sort of annoyance. "I've been to Ireland, to Budapest. I'm just one of the guys. I was the little sister at the very beginning. Now I'm like the big sister. We're all family."
Kurzeja may be family now, but fate had to do a little twisting to get her there. Had it not been for that male roommate coming out and dragging her to Capital Pride in 2006, it's unlikely she and the Cowboys ever would've crossed paths. But they did.
"I thought all of them were very good-looking," she says, explaining that her first impression eventually led her to the DC Cowboys website, where – with some experience in entertainment PR – she let the group know that she'd be happy to lend a hand if ever they needed one. Turns out they did.
Today, she makes sure the rehearsals are stocked with water, peanuts and mirrors. Kurzeja is the de facto nurse if anyone gets injured, she monitors the music and breaks out her limited sewing skills to reattach a button now and then. As she says, she's family – even if that means she has to remind her "brothers" that there's such a thing as being too comfortable around her.
"I've seen it all," she says, explaining she sometimes has to share rooms with some of the guys on the road. "They're not shy. I can't tell you how many times they'll come out of the shower and I'll have to say, 'Will you please put on a towel?"'