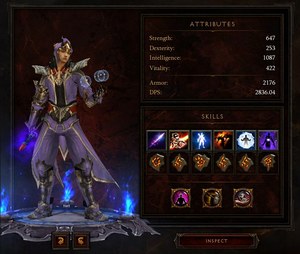 Even though I wrapped up my
Diablo III review
a few days ago, I'm still feeling the pull of demon slaughtering recreation. I've launched into my first full-on attempts at the "Hell" difficulty and consistently getting my ass handed to me by glowing golden monsters. I can't imagine the final Inferno difficulty at this point. But given that I'm at level 53 and the level cap is 60, obviously this is going to be like the endgame for World of Warcraft where everything comes down to a ruthless hunt for stat-raising weapons and armor (but minus the pain of raiding).
A few points I left out of the review just for space reasons, but I think are relevant:
I've been spending more time on multiplayer with random people, and it's really a mixed bag. I think it's the only way to get through certain situations but there really isn't any communication — I have yet to see any effective use of party chat, and lord knows when things get hectic, there's no time to type out "Heal me! Heal me! Heal me! Hea…..ugh. argh." Really should have been at least some basic voice chat built in here.
The auction house, where you're gonna end up going for a lot of necessary gear upgrades, is kind of clunky. It's not that hard to start narrowing a search down based on stats/items, but it is kind of hard to get an idea of effective pricing when trying to sell something. I'm spoiled by my Warcraft add-ons that give me pretty intricate data, something I'm guessing we won't be seeing anytime soon in Diablo.
Finally, if you're a Mac gamer (like me), Blizzard is great to have around since its one of the few companies that does simultaneous development and releases for its games (Warcraft, Diablo, Starcraft). I had some performance issues with Starcraft II on my not-that-old dual core i7 MacBook Pro, so I've been surprised by the level of performance I'm getting out of Diablo. 'Course, all you PC geeks probably have God's own personal graphics card are something, so I'm sure your wizard looks better than mine. I'm cool with that. Even though, as you can see, Dacbiet is really working his Pride-season lavender look.
Gotta get back. These demons aren't going to kill themselves.
Get Technocrat in your inbox. Join our mailing list.