On Saturday, June 16, Joe Solmonese looked relaxed.
It made sense. It was, after all, pretty much the first weekend that the former head of the Human Rights Campaign had woken up without a job to do since before he'd joined Emily's List almost two decades earlier. Solmonese, who headed HRC since 2005, had been at Emily's List for a dozen years before that.
So, almost a week out of his job, Solmonese was easing into relaxation before hitting the campaign trail to help President Obama, for whom he is a campaign co-chair.
Two months earlier, after Solmonese's successor, HRC President Chad Griffin, had been named – but before the relaxation had begun – Metro Weekly talked with Solmonese in his HRC office.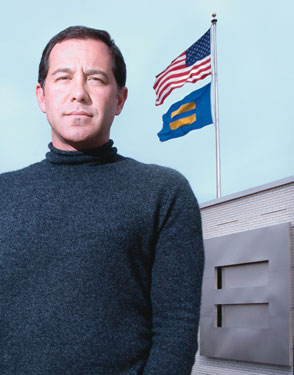 Joe Solmonese
(File photo)
Saying that he'd miss his coworkers and HRC's volunteers across the country, Solmonese said, "I've also met some really life-changing people along the way."
Along with Marine Corps veteran Eric Alva and mother-turned-activist Judy Shepard, Solmonese recalled, "To go with [out gay Episcopal Bishop] Gene Robinson to Columbus, Ohio, at the Episcopal U.S.A. convention, where the entire split of the Anglican Church worldwide comes down to this one man almost, and to see him conduct himself the way that he did in press conference after press conference was to have almost a religious experience myself, as someone who's not at all religious."
On the other end of his experiences was the 2007 vote on the Employment Non-Discrimination Act, when the House voted on a version of the bill that did not include gender identity protections.
"I think we found ourselves in an impossibly difficult situation," Solmonese said. "George Bush was president; there was no chance that bill was going to get signed into law. … There was a real desire by the leadership of the House to lay down foundation, to get a really clear sense of where we stood, even on the merits of sexual orientation, even on the merits of the religious exemption, and to use that as a foundation upon which to build. The House intended to move ahead with that. They sought to have us support that move, and we decided to support that move as a way of building towards a fully inclusive piece of legislation. It was all wrapped up in the complexities of legislative process and building a bill, which is never an easy of pretty process."
"Intellectually, it is as I just described it. We're not going to pass a bill into law that doesn't have everybody in it. But emotionally and symbolically, it still was a divisive moment – a divided moment. We divided – or, the community felt as though it had been divided through that act," he says. "I've said this before and I'll say it again: I genuinely regret the pain that it caused. … It was an impossibly difficult decision. I made a decision that I thought in the long run would be the most effective way to build toward the legislation we ultimately wanted. It was a difficult time here."