Bruce Majors's platform for Congress may raise some eyebrows: he doesn't have one.
"I don't think I need one," Majors says candidly. "I'm not running to be elected. I'd be amazed if I were."
The openly gay Washington, D.C. resident is running as a libertarian, challenging 11-term incumbent Del. Eleanor Holmes Norton (D) the District's non-voting representative in the U.S. House of Representatives.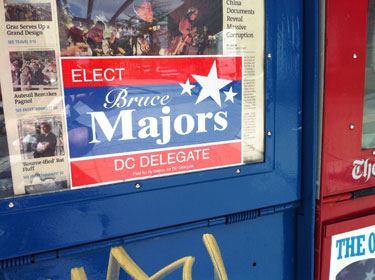 Bruce Majors election placard
(Photo by Todd Franson)
So why is he running, if he doesn't expect to win? Two words: ballot access.
Majors says if he can get more than 7,000 votes, he believes he will have enough votes to gain permanent ballot status for the Libertarian Party, which would then be recognized along with the Democratic, Republican and Statehood Green Parties.
"The purpose of my running is to give people a choice," Majors says, citing the recent political scandals that have plagued the District. "D.C. in general needs a new party."
Frequent scandals can lead to apathy among the electorate, but Majors is convinced he can't just let the 11-term Norton go unopposed in the general election. No Republican is running for the seat, and Majors doesn't see D.C. Statehood Green Party nominee Natale Lino Stracuzzi as a threat to Norton.
Majors says he doesn't know what Norton has done recently in terms of getting legislation passed through Congress since she was able to obtain a $5,000 D.C. homebuyer tax credit, which took effect in 1997. A larger $8,000 federal tax credit was later offered to first time homebuyers who purchased their home as a primary place of residence prior to September 2010, essentially superseding the D.C. credit.
Majors also questions Norton's work on fighting the Defense of Marriage Act (DOMA), questioning whether D.C. marriages could have been treated equally to heterosexual marriages on the federal level since the District is not a state. And even if that wasn't possible, he says, why didn't Norton introduce a bill to repeal DOMA when the Democrats controlled Congress and the presidency from 2009 to 2011?
Asked why he believes he would be more effective that a veteran legislator, Majors responds, "I don't know whether a libertarian in a Republican-controlled Congress is going to be less efficient than a Democrat in a Republican-controlled Congress."
In response to Majors's questions, a spokesman for Norton's campaign has issued the following statement:
"Although Congressman Norton does not have the congressional vote, her work in Congress earned her top marks in a recent House of Representatives power listing, done by an outside group, of 16th in legislative power and 19th most influential in the House of Representatives. This record of achieving many bills and benefits without a vote has led D.C. resident to consistently give her more votes at the polls than any D.C. elected official.
"No community has given Congresswoman Norton greater support than the LGBT community," the statement continues. "Congresswoman Norton was an active co-sponsor of the bill to repeal the Defense of Marriage Act (DOMA). What mattered most to her community was that she protected the D.C. marriage equality bill from six attempts to overturn it."
For now, Majors says he still needs to obtain ballot access by collecting enough valid signatures from registered D.C. voters. He said he plans to have a fundraiser on Aug. 3, but so far has only received donations from four people, including a personal contribution to his own campaign.
In addition to his shoestring budget, he says his support is going to come from a hodgepodge of different groups.
"I expect I'll get support from libertarians, gay people, Ron Paul people, and residents tired of corruption," he says matter-of-factly. "I'll probably get support from people I know personally, maybe even some people who weren't considering voting, or weren't interested or committed to a candidate."
As for his campaign strategy, Majors seems eager to be a thorn in the congresswoman's side.
"I plan to investigate her," he says, referring to the fact that, according to the website OpenSecrets.org, 55 percent of her campaign donations come from political action committees (PACs) and a large portion from the real estate industry, and public sector, construction and building trade unions.
"I'm looking forward to baiting her," he says with a hint of mirth in his voice.