"There's this really ambiguous sexual attraction," says Christopher Henley, referring to the relationship between the god and ruler in The Bacchae. At one point, the god even convinces the ruler "to dress as a woman to view the bacchanalian excesses of his followers."
Henley, artistic director of Arlington's WSC Avant Bard, says the ancient Greek tragedy's explorations of alternative sexualities and lifestyles, and of finding joy and satisfaction beyond that allowed by a rigid society, inspired many playwrights in "the American avant-garde" of the hippie era.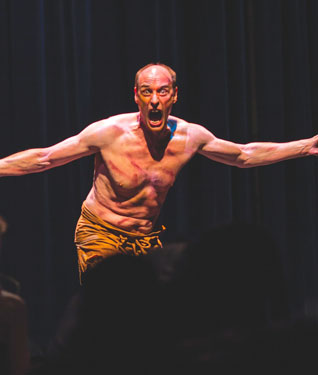 The Bacchae
(Photo by Kristina Sherk)
Which is why you find Euripedes's 2,400-year-old The Bacchae paired with Sam Shepard's 1972 The Tooth of Crime as part of WSC Avant Bard's Spring Rep.
"The two plays fit together," explains Henley. "Each features a young, sexy, charismatic figure challenging received orthodoxy, and being dealt with by the people that they're challenging."
And then there's the music. Both plays feature singing and dancing and original music – a chorus with string and percussion instrumentalist for The Bacchae, a rock band for The Tooth of Crime. "It wasn't intentional," says Henley, "but it just kind of happened that, in a funny way, we've got two musicals running at a theater company that generally does Shakespeare."
Fact is, the company tackles more than just Shakespeare and when it does, it takes "a slightly more irreverent, edgy approach to the classics," says Henley. "We often do gender experiments, and also explore the gay themes in plays that more traditional productions don't always see."
The Bacchae and The Tooth of Crime run concurrently through July 1 at 'Artisphere, 1101 Wilson Blvd., Arlington. Tickets are $25 to $35. Call 703-418-4808 or visit wscavantbard.org.