Speaking at a June 7 Capital Pride town-hall meeting at the Charles Sumner School at 17th and M Streets NW, Mayor Vincent Gray (D) received several rounds of applause from a packed audience of about 200, as he reiterated his commitment to pursuing full equality for members of the LGBT community.
"Equality is a principle that is not just rhetoric for me," Gray said. "And those who don't believe that we should have equality, especially in our GLBT community, they can go find a job somewhere else, because they cannot work for me."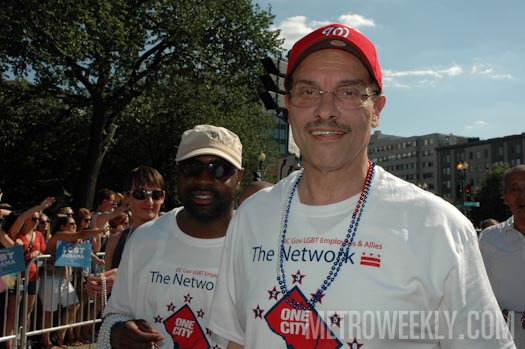 Gray began the evening by swearing in 20 members of the LGBT community to the Mayor's GLBT Advisory Committee, one of nearly 200 boards and commissions that, according to Gray, were "in horrific shape" with many of their seats vacant since his predecessor, Adrian Fenty (D), was in office.
The GLBT Advisory Committee, established in 2006, was formed to advise the mayor and the director of the Office of GLBT Affairs on issues affecting the LGBT community.
Earl Fowlkes, president and CEO of the International Federation of Black Prides, was named committee chair. Barbara Ann Helmick, of The Public Interest Network, will serve as vice chair.
The remaining members are: Andrew Barnett, Gregory Cendana, Wesley Thomas, June Crenshaw, Ryan Wilson, Brittany Walsh, Lester Johnson, Kareem Murphy, Megan Wallace, Matthew Leblanc, Savanna Wanzer, Iden Campbell McCollum, Ronald Swanda, Imani Woody, Khadijah Tribble, Julius Agers, Courtney Snowden and David Pérez.
After the new nominees were sworn in, Gray, a year and a half into his term, was questioned onstage by Washington Blade reporter Lou Chibbaro Jr. During that interview, Gray talked about progress his administration has made on LGBT issues. In particular, he touted initiatives such as Project Empowerment, a training program helping transgender residents find employment. He also allayed concerns stemming from the resignation of Council Chairman Kwame Brown (D), who stepped down a day earlier after being charged with bank fraud.
"The city is doing extremely well," Gray said. "You pick an index and I can speak to it."
Gray also tackled issues that have become part of the laundry list of LGBT concerns in the District, including policing, hate crimes, marriage equality, the newly filled slots on the Human Rights Commission and economic development.
Gray frequently referred to the need to mainstream LGBT issues and make them priorities, echoing his 2010 campaign theme of equal treatment under the slogan of "One City."
For his comments, Gray received several rounds of applause. Local transgender activist Ruby Corado even rose to thank Gray for his efforts as mayor.
"I simply just have a 'thank you,' because since you came into office, we have been able to sleep a little better," Corado told Gray. "As a transgender activist, I certainly sleep a lot better, because you are a man of your word. … 'One City' does include LGBT, and it is because of you."